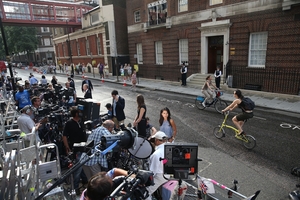 Supporters of the monarchy were last night preparing to bathe New Zealand in pink or blue to celebrate the royal baby's birth.
Monarchy New Zealand had a team of volunteers on high alert by their phones overnight, ready to call managers or caretakers of 37 enlisted landmarks throughout the country to light them in the right colour, depending on whether the Duchess of Cambridge gave birth to a girl or boy.
Group chairman Sean Palmer said that since issuing an initial list last week of 24 participating landmarks, he had heard from other organisations keen to join the celebrations.
The result was an expanded list reaching from the Duke of Marlborough Hotel in Russell to South-land Museum and Art Gallery in Invercargill.
Prominent Auckland landmarks to be lit up will be the Sky Tower, The Cloud and Holy Trinity Cathedral.
Dr Palmer said that as well as being "a nice way to mark the birth", the lighting scheme was capturing attention from world media.
"Free media coverage displaying some of our national landmarks is bound to be good for our image abroad and our tourism industry at home," he said.
But that was only one of a number of ways this country would mark the birth of the child who "will one day be King or Queen of New Zealand".
Although Prime Minister John Key was staying tight-lipped on what gift the Government would give the royal baby, Dr Palmer's group was encouraging people to donate to the Royal New Zealand Plunket Society.