Amid the political toing and froing about the leadership of the Owen Glenn Inquiry into family violence, another small child has died. The alleged killing of baby Atreyu has proved a timely reminder about the community's real priority - to seek out solutions to child abuse. This week, the Herald on Sunday found some unlikely champions: real estate agents who are learning to recognise neglect when they visit homes. And they are just the start ...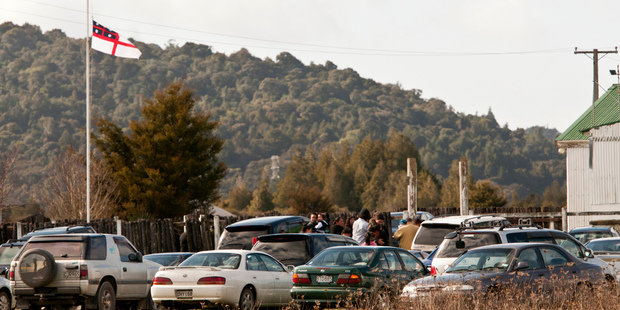 Carlton Crescent, Kamo. A quiet street with tidy gardens, neatly mown lawns and smart 1980s homes. Not a hint of graffiti, no rubbish in the gutters, barely a weed in sight. Yet a pall hangs over a single-storey house halfway down ths street. The pall of a child's death. Nothing's been proven, nobody's been arrested and no charges laid, but Starship hospital doctors have told police the little boy living here died of significant head injuries. The police launch a homicide investigation. Another child dead, another name for the long roll call. What, if anything, can we do next time? What difference can we make? The Herald on Sunday went looking for answers and found something we weren't expecting: Hope.
Anthea Simcock is chief executive of Child Matters, a Hamilton-based organisation offering training courses and community education.
"Twenty years ago, when I set up Child Matters... people didn't want to talk about it." Now they do. We all have a role to play, she says, and tells a favourite story.
A child walks along a beach littered with thousands of stranded starfish. The child throws one starfish after another back into the sea. Someone says: "You're not making any difference to all those starfish."
The child throws another one in: "No, but I made a difference to that one."
Simcock says that in New Zealand, we have a society that "inherently believes abuse and neglect are someone else's problem". If we were all like the youngster with the starfish, we'd see that we can make a huge difference in a child's life.
All too often we sit back and "tut tut" at bad parenting.
"How often do we actually praise parents for doing well? We've got to offer help, offer praise but also take responsibility. A lot of people [who witness bad parenting] will say they didn't know what to do. We say talk to somebody, offer help, or make a report to get the help that the child will ultimately need. People think Child, Youth and Family will come and take the child away, but it isn't like that. They're far more likely to come and offer help and support."
Child Matters educates professionals such as teachers, doctors and nurses to recognise and respond to child abuse and neglect.
But Simcock would like to go even further. Sports coaches, Sunday school teachers, cultural workers, in fact anybody who goes into homes needs to know what to do.
On Friday, for the first time, Child Matters is training an unexpected group: staff of Hamilton real estate firm Harcourts. General manager Brian King sees the training as the socially responsible thing to do.
In an emergency it's obvious whether you need to call police, fire or ambulance.
"If someone's beating up someone, you ring the police. If someone injures themselves, you ring the ambulance. If there's smoke, you ring the fire brigade. But if you go into a house and see something obviously not right with the way a child's been treated by adults, it's not common knowledge who to ring."
Many years ago, King visited a house he'll never forget. "The kids were unkempt, the house was just upside down, it was not a place where any human being should have been living let alone kids. The way they were being spoken to. A lot of people were disturbed in our staff over it. There was talk about what we should do, and we called Social Welfare." He's not sure what happened next, but knows they did the right thing.
His staff are in and out of houses all the time but have told him they aren't sure how to respond to the occasional "questionable thing" they see. He expects that about 60 of Harcourts' 70 staff will attend.
The police have taken down the tent that stood on the lawn at Carlton Cres in Kamo last weekend, but they aren't backing away from calling this a homicide investigation. A battered silver Honda Prelude is parked on the grass verge, rego expired, windscreen cracked - a sign something was "off" at the property or just an annoying obstacle partially blocking the footpath? As neighbours, friends, family members, government agencies and those who loved little Atreyu Taylor-Matene look back for signs or clues of anything amiss with him, his mother Jessica Taylor-McGahey or her partner Chris Whaley, the wider public could be forgiven for throwing their hands in the air in despair.
Nia Glassie might be alive today if only someone had spoken up. The 3-year-old died in the Starship hospital on August 3, 2007, after enduring horrific neglect and abuse under the gaze of whanau, neighbours, and people at the Rotorua house where she was tortured. Coroner Wallace Bain's 2011 report noted that staff at the kohanga reo Nia briefly attended had noticed bruising on the little girl as well as the smell of cannabis and urine, but did not notify Child, Youth and Family.
"Decent members of a community should not stand by and whanau and other family members should not turn a 'blind eye'," Bain wrote. He recommended "significant penalties" for failing to report child abuse.
But, as stated in the government's White Paper for Vulnerable Children released last October, there's a danger that mandatory reporting will swamp agencies to the point where they can't cope, leaving children to fall through the cracks. The vast majority of New Zealand children who are seriously abused are already known to government agencies and because of this the Government is not planning to introduce mandatory reporting.
By the end of next year, the Ministry of Social Development will launch an awareness initiative on what the public should be concerned about and how to seek help, and a single "Child Protect" phone line for the public to raise concerns about children. By the end of 2015, all frontline public-sector staff will have training in recognising the signs of child abuse.
Plumbers and electricians could be next - after all, they see inside people's houses too.
Wellington plumber John Leen, chair of the Master Plumbers board, has never personally seen anything indicating child abuse, but he plans to raise the issue with his workers, and discuss it at a Master Plumbers board meeting. "We need to put something together for our membership to know about," he says.
Auckland electrician Dave Wood, the region's representative on the Electrical Contractors Association of New Zealand, says he will discuss similar training at his next staff meeting, and with his association. "Even if it saves one kid getting beaten up, it's worth it."
Glenn Inquiry chief executive Kirsten Rei applauds such initiatives.
"Another sector we should focus education and intervention around is hairdressers. Who do we all go to? We form relationships with them, we talk to them."
The inquiry, established by multimillionaire philanthropist Sir Owen Glenn, has been beset by problems. Its original leadership team and most members of its thinktank have resigned amid concerns about Glenn's personal history and worries about whether the inquiry intrastructure could adequately protect those it purported to help.
As the organisation tries to shrug off its problems of the past two months, Rei, the new boss, is determined it will not lose sight of its goals.
"My intention for the Glenn Inquiry is to refocus its efforts on describing those systemic failures but also on asking, 'What works at an individual level?', 'What works in our communities?' 'What sorts of education or interventions should we be putting out there for all the world to understand so that if they're concerned about a neighbour, friend or child, we've got some tools were armed with as a community?"'
It's time, Rei says, for a "paradigm shift". This may sound like corporate jargon but - like Anthea Simcock - she is intent on changing the way all New Zealanders think and act.
"What we need to do as a country is look at how are we supporting victims so they don't become perpetrators themselves. Are we doing enough to support the children themselves who are subjects of abuse in their own homes?"
The issue is complex and there's no single way to approach the solution. It's a "wicked problem", Rei says, and the solutions have to address not just the victims and offenders, but also families, neighbours, communities.
"Unless you've got a whole lot of people understanding the complexities and being well educated in how to respond appropriately, you can't fix the problem.
"Relying simply on a state response is not going to get us there. We have to accept and acknowledge this as a country. It's everybody's problem."
For now, Owen Glenn is considering his position in the inquiry. Revelations that he was charged with violence against a women in 2002 have troubled the inquiry. The charges against him were dismissed and Marja Shaw, the woman who made the complaint, has told the Herald on Sunday she wants the Glenn Inquiry to continue.
Inquiry board chairman Bill Wilson, QC, says the negative publicity was a complete waste of money and time.
"The hurt that has been caused to the inquiry staff has been appalling," he says, adding that the board hopes Glenn will play an active role in future.
"We are all committed to seeing the inquiry through to fruition. It is all too clear we've got a dreadful problem.
"In the past 12 years, around 200 women and children have been killed as a result of domestic violence related incidents. We have the fifth-worst child abuse rates in the OECD.
"Our focus will be putting our emphasis on solutions, and to that end, we are seeking the views of those who have come forward as to what has helped them, and what in their view could help others."
On the first Tuesday of the school holidays, half a dozen children play on the jungle gym at Mahuhu-ki-te-Rangi Marae, about 9km south of Kaikohe. It is the first day of baby Atreyu Taylor-Matene's tangi. Bigger kids throw a rugby ball around in a nearby field; a farmer flies along a farm track on his quad-bike; trucks rumble by; a man on horse-back canters right down the middle of Mangakahia Rd for a hundred metres then veers into a driveway. Outside the wharenui, a United Tribes of New Zealand flag flies at half mast. The morning mist has lifted, revealing a bright sunny day. Cars arrive and leave. Drivers stop to chat with Peter Harris, a Maori warden posted on the entrance. Inside the marae, there's a little boy's body, surrounded by grief.
In October 2011, a Herald on Sunday survey asked 1000 people if they had even thought about reporting a specific case of child abuse or neglect; 6.4 per cent said they had considered it but decided not to; 10.8 per cent had reported a concern; 81.3 per cent had not had any reason to report abuse.
The message is clear: we all need to take responsibility.
The question is how can we encourage that 6.4 per cent to change their ways.
Anahera Herbert-Graves, chief executive of Te Runanga-a-iwi o Ngati Kahu in Kaitaia, admits to experiencing "moments of despair", knowing it's impossible to keep all children safe from abuse.
But she hasn't lost hope. That hope lies with neighbours and family being brave enough to intervene - and to hell with what people think of them.
One of the most "beautiful things" ever to happen to her occurred when a relative confronted her about her then 2-year-old daughter. She'd flown off an indoor trampoline, smashing her nose against the base of a bed.
The child looked like the "creature from the black lagoon", says Herbert-Graves.
Her uncle saw the injuries and sternly demanded: "What happened to that girl?"
Witnesses had seen the accident, but her uncle wouldn't quit. He looked at Herbert-Graves, then asked the girl: "What happened, baby?"
"I really was proud of him for doing that. That's the kind of courage it's going to take."
We can hold all the inquiries in the world, she says, and still not penetrate those risky situations.
"Every whanau, every community, has people like me.
"Sometimes we're considered loud-mouthed, sometimes we're considered bossy, but my God, when the shit hits the fan, they come to our gate.
"Every family has people like us. If I see them hit their kids in public, I'm likely to go and say, 'E hoa ma, kaua e patu taku mokopuna, kaua e mahi tu tino. [Friend, don't hit our children, don't abuse]. Can I help you? Here, give me that baby."
She belongs to Tu Tika (To Stand True), an informal group of about 15 organisations - none of which are social service providers - which care about child safety.
They hold hui, share knowledge and stand vigil outside courts during abuse cases.
Tu Tika organised a hikoi when Pamapuria paedophile teacher James Parker appeared in court. Their aim: to keep the child abuse in the public eye.
"It's not just about Parker, sex abuse or killing children," Herbert-Graves says. "It's about everything to do with treating children as taonga. They are our treasures."
A steady stream of mourners arrive at the Kaikohe marae to pay their respects to Atreyu's family. The little baby is laid to rest on Wednesday, after a service at the rural settlement. In Whangarei this weekend, 20 police continue their inquiries. Detective Senior Sergeant Kevin Burke says that until a pathologist's report is finalised, sometime in the coming fortnight, he won't be able to say anything more about how Atreyu died. Anyone with information should contact the Whangarei Police on (09) 430 4500.
What to do
To report serious concerns about a child or family, call:
• Child, Youth and Family on 0508 FAMILY (0508 326 459), anonymously if necessary
• Your local police. In an emergency dial 111.
• Crimestoppers, anonymously, on 0800 555 111