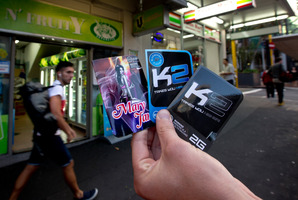 A Tauranga retailer who reaped the financial benefits of selling synthetic cannabis says he will survive despite a new law stripping him of the popular product which helped bolster his tobacco business.
Mike Lawrence from Puff n' Stuff on Cameron Rd said there had been a "mad rush" since July 10, ahead of the Psychoactive Substances Bill coming into effect yesterday.
"Since last Wednesday people have been coming in buying up big quantities of the stuff.
"That's what happened the last time."
Mr Lawrence said one woman spent $3000 on Kronic before it was banned "because she was off alcohol, off illegal drugs, she'd found her thing that helped her chill out".
Mr Lawrence said the profit made from selling synthetic cannabis had helped pay for extra staff and their longer shifts.
From midnight yesterday, the sale of synthetic cannabis was prohibited under the new Psychoactive Substances Act, which was passed in Parliament last week.
Despite his support for the former "legal high" industry and its manufacturers, Mr Lawrence said he felt the Government had got it right.
He said the product would now be better controlled and genuine, mature, users could enjoy the product without being lumped into the same category and younger people over-indulging.
Mr Lawrence said the latter made up about 5 to 10 per cent of his clientele.
Often, when he refused to serve them they would say they would go to the dairy down the road and get it.
"I want to be seen as the person who is responsible as a retailer and has a community spirit."
Police deputy commissioner Mike Bush said it was vital retailers understood the need to remove stock from their shelves.
Mr Bush said police would work with district health boards to ensure dairies and convenience stores in their communities were not selling banned products.
The act bans sales of synthetic drugs from dairies, grocery stores, petrol stations or anywhere alcohol is sold.
For more articles from this region, go to Bay of Plenty Times