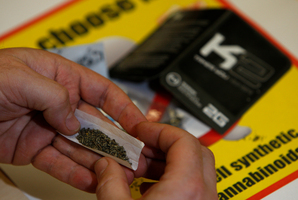 A dairy owner, who says his former synthetic cannabis customers have been getting hostile and violent with him since he banned the product from his store, has been praised by Northland's top cop.
Area commander Inspector Tracy Phillips says in a report to be delivered to the Whangarei District Council that Onerahi Food Market banned the product after learning that a 14-year-old had smoked the synthetic cannabis K2 with his father before committing burglaries.
"The dairy recognised that the product they were selling was having a negative impact on their community and saw the need for them to be socially responsible," she says.
The Psychoactive Substances Bill came into effect yesterday, meaning it is now illegal for dairies, petrol stations and any place that sells alcohol to sell the products.
Puyash Patel, owner of the Onerahi Food Market, told the Advocate he started selling legal highs last September after a customer requested it. Word got around and Mr Patel was getting regular visits from customers he'd never seen before.
They were younger and not as nice as his regulars, he said.
"I realised there's no point in selling it anymore, we were going to lose our regular customers."
He said that since the product had been off the shelves, customers had been in asking to buy it, and when they found out he no longer sells it, they got hostile.
"I had one guy who smashed our stand when I told him."
He said although the banned substances were lucrative for the family business, he would rather not sell them.
"I'd rather have our old customers who come in every day with $1.90 for a loaf of bread."
With the bill now law, strict labelling requirements mean the product must list the ingredients, and no shop can advertise, except at the point of sale.
It is illegal to sell the products to those under 18 years of age.
Anyone who breaks the law could face fines of up to $50,000.
Minister of Police Anne Tolley said police now have a tool in the legislation to help combat legal highs.
"These products have had a shocking effect on young people and their families, and up until now, frontline officers have had to deal with the consequences."
Northland police youth crime Sergeant Dan Cleaver said officers would be checking in on known stockists to ensure they are complying with the new bill.
For more articles from this region, go to Northern Advocate