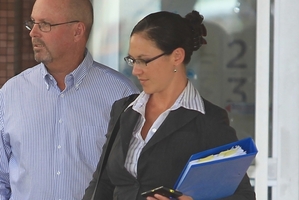 A Tauranga lawyer wanted by police has left the country rather than front up to court to face charges related to drink-driving, police say.
Sergeant Wayne Hunter said yesterday that investigations had revealed Michaela Whatarau Milner, aged 32, left for Australia on July 5.
Milner failed to answer a summons to appear in the Tauranga court on Monday to face charges of dangerous driving, refusing to allow a blood specimen to be taken, and driving under the influence of alcohol so as to be incapable of having proper control of a motor vehicle.
She is also charged with driving while suspended after she was allegedly caught driving again the day after her licence was revoked for 28 days, because of the first set of alleged offences.
Mr Hunter said Immigration New Zealand confirmed Milner had left the country bound for Australia. Police believed she had a partner in Australia and family in Gisborne.
There was now a red flag on her file, meaning she would be arrested when returned to New Zealand.
She would not be extradited to face the charges as the maximum penalty was only three months in prison. In order for extradition to take place the maximum penalty would need to be at least 12 months in prison.
Any background checks requested by prospective employers and directed to the New Zealand police would reveal the outstanding warrant for her arrest, he said.
"It's a bit disappointing that we can't finalise it; 99.9 per cent of the people who get caught front up and deal with the consequences. It's pretty disappointing for someone who's a lawyer to try and skip the country. It won't go away," he said.
Mr Hunter said he believed "she should be struck off [the roll of barristers and solicitors] because she's flouting the New Zealand law".
At the time of her arrest on May 29, Milner was employed at Tauranga law firm Lyon, O'Neale, Arnold. She resigned last week.
Director Doug Lyon said her actions were out of character and her resignation came as a surprise. "She's a good lawyer, a competent lawyer. We're sorry this has happened. There have been no questions of her competence or reliability as an employee," he said.
She had spent most of her life in Australia and completed her law study there before moving to New Zealand to work at a Northland firm. She moved to Tauranga a few years ago.
Mr Lyon said he could offer no explanation for her behaviour. "People always have to face up to these things. They don't just go away."
- APN