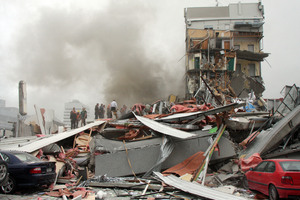 Families of Canterbury Television building earthquake disaster victims hope the site bought by the Crown will be kept as a sacred memorial place.
The purchase of the place where 115 people died in the February 22, 2011 quake - the single biggest lost of life - was announced by the Government today.
The site at 249 Madras St which has been cleared of rubble and continues to be a poignant place for remembering those who died, will form part of the new central city blueprint.
The Christchurch Central Development Unit (CCDU) has written to families of the victims at the site to advise them of the Crown purchase.
The CTV site will form part of the East Frame, a predominantly residential area with green open space that will border the new condensed CBD core.
CCDU director Warwick Isaacs says those involved in the design and planning of the East Frame are acutely aware of the sensitivities that surround the site.
"That is why we have been in contact with those affected families we have contact details for - to let them know about the change in ownership and to reassure them that access to the site will not change in the near future," Mr Isaacs said.
He said a final decision on what will become of the site is yet to be made.
"But those involved in the design and planning for the East Frame will be very mindful of what occurred at the CTV site, and this will be reflected in any decisions that are made.
"I have committed to keeping those families informed on the key decisions that are made about the site."
Brian Kennedy, whose wife Faye died when the six-storey concrete office block came down in the magnitude-6.3 shaking at 12.51pm, said it needs to be protected from development.
"That particular site, and PGC to a certain extent, I think should remain as a place where people can go and pay their respects," said Mr Kennedy, who in the past has acted as spokesman for victims' group Quake Families.
"Whether they decide for the whole earthquake memorial should go there or not, I don't know, but it would be minimal cost to put something really nice there."
The Crown's negotiation to purchase the PGC site at 233 Cambridge Terrace, where 18 people died, is "well advanced", the Canterbury Earthquake Recovery Authority said today.
- APNZ