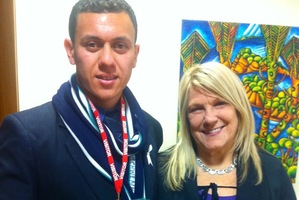 Youth rates and a living wage are on the agenda for one youth MP in Parliament today who says he wanted to bring a different message to the Youth Parliament table.
This week 121 young people from across New Zealand have arrived in Parliament for two days to debate mock and real issues.
This year Labour MP Darien Fenton decided to be different in her selection of a youth MP, saying she generally selects her youth representatives from the North Shore, where she is based.
This year she wanted to select a worker - someone who was working so she approached the Service and Food Workers Union.
Edgewater College student Peniata Endermann, 18, works up to 25 hours a week after school as a cleaner to support his parents and siblings.
He said the rate of pay his mother receives as a cleaner and is not enough for her to save on, so he supplements her income with his.
"On the rate that we're working at you can't really save much, there's no savings left over, so I am working to help out my Mum with the bills and rising food prices and rising travel costs - just the basics that we need like power.
"This is a really good opportunity to be a voice for those on the minimum wage and for those who are trying to make ends meet.
"The minimum wage just won't cut it for many families in our country - I am really happy for this opportunity to be here to be a voice for all of those people who can't have their voice heard.''
Peniata is now sharing his cleaning load with his 17-year-old sister so he can get through his final year at high school.
He said he would often fall asleep at school because he was sometimes working late cleaning shifts until 12 midnight.
A living wage and the axing of youth rates would be start, according to Peniata.
"Even on 40-hours a week on the minimum wage just covers the basic, but if you get a hole in your shoe, or there a book to pay for at school it doesn't cover it.''
Peniata said his school provided school breakfasts.
Peniata will talk in the legislative debate tomorrow and will talk about the introduction of the youth rates.
"People are struggling to survive on $13.75, and now it's down to $11, especially for students.''
- APNZ