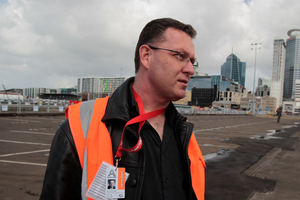 Former Local Government New Zealand head Peter Winder has been appointed to conduct the independent investigation into under-fire Christchurch City Council's building consents crisis and see how much chief executive Tony Marryatt knew about its struggles.
Marryatt has been stood down on paid indefinite leave after International Accreditation New Zealand stripped the council of its accreditation earlier this month for failing to meet targets.
Crown manager Doug Martin has been appointed to oversee the troubled department while the Government has ordered an audit of potentially non-compliant consents.
He started work today and has until the end of next year to get the council's IANZ accreditation back and restore confidence in its ability to issue consents.
Mr Winder is a former chief executive of Auckland Regional Council and chief executive of Local Government New Zealand from 2001 to 2003.
He is expected to produce a report that will be delivered by around August 12.
Once the review has been completed, the council say it is its intention to release the report "to the fullest extent possible consistent with its privacy and other legal obligations".
"The terms of reference are for an independent investigation into the alleged failures of the chief executive officer to keep the mayor and councillors appropriately informed, and to manage the consenting department and processes of the council, leading to the loss of its building consent accreditation, which was followed by a loss of insurance cover, a credit downgrade and the appointment of a Crown manager," the council said today.
"Mr Winder is directed to undertake the investigation fairly and impartially and to liaise with the Crown manager."
The probe is expected to cost between $40,000 and $50,000.
Last August, Mr Winder was one of four commissioners appointed to replaced the elected councillors of Kaipara District Council after an investigation found "serious governance and financial challenges".
As a director of McGredy Winder & Co, his work with local authorities has included co-ordinating the national regional councils' programme to implement the National Policy Statement for Freshwater Management.
He's also served as director of transport at Auckland Regional Council.
IANZ identified 17 consents issued in September last year where full compliance with the requirements of the Building Code or Act had not been demonstrated.
Ministry of Business, Innovation and Employment officials have reviewed the consents and while they found processing failures, the consents are "all technically sound and would not result in any safety issues," Building and Construction Minister Maurice Williamson said.
"Many of the failures relate to incomplete or incorrect administrative processes.
"Officials are auditing a further sample of consents issued by the council in the past six months to be sure consents haven't been issued for unsound buildings. I expect the results in the coming days."
Environment Minister Amy Adams meanwhile has instructed her officials to carry out an independent "diagnostic assessment" of the council's resource management planning and resource consenting functions.
- APNZ