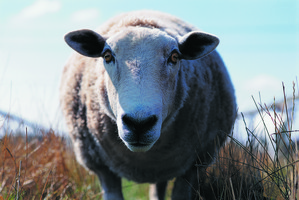 Beware my flock of sheep - that's the unusual threat from Dunedin man John Van Turnhout, who has threatened to unleash woolly revenge in the Octagon unless he gets his way.
Mr Van Turnhout, 76, has written to the Dunedin City Council demanding an end to the annual closure of Three Mile Hill Rd, where he lives, for the Otago Sports Car Club's one-day hill climb.
If the council refused, Mr Van Turnhout said he might ''have to resort'' to releasing ''a truckload of sheep in the Octagon'', timed to disrupt council activities.
And, contacted by the Otago Daily Times yesterday, he said the threat was no idle threat.
''I've got my own farm here. I can load up my truckload of farm animals and drop them off in the Octagon any minute.
''It's not that I want to do that ... All I've tried to do is get this thing shifted.''
Mr Van Turnhout's objections would be considered when the council's road-stopping subcommittee meets this morning to consider the road closure.
The hill climb has been held most years since the 1960s, but only twice since Mr Van Turnhout bought a farm in the area in 2008, a staff report said.
The club has again sought council permission from the council to close the road later this month, between 8am and 5.30pm on July 21, to allow the event to proceed.
Mr Van Turnhout was the only resident to lodge an objection; ten neighbours all granted their consent.
Mr Van Turnhout told the ODT the hill climb created noise and rubbish problems and restricted access to the city for the day, unless residents were prepared to drive the long way around, through Mosgiel.
He was not aware of the event when he bought his home, otherwise ''I would never have bought it'', he said.
He planned to attend today's meeting before deciding whether to follow through with his threat.
''I will see how we go [today].''