It was an epic voyage: seven canoes crossing 30,000km of ocean. But now there is discontent with this ambitious movie project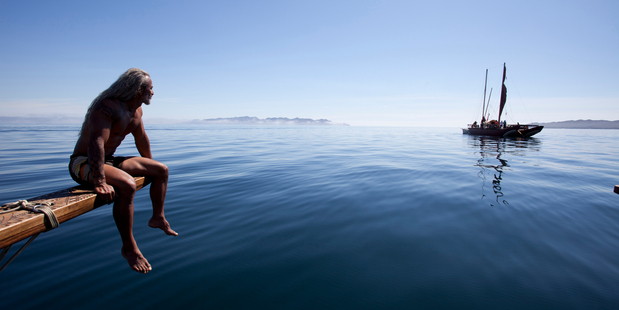 On a calm July day, million-dollar waka Haunui rests on the water. Rigging creaks outside Auckland's Maritime Museum. A blank plaque sits on a balcony a few metres above the water where some explanation of the 22m, double-hulled vessel might be presented. A dozen off-season diners and tourists nearby pay no mind to the long, intricately-carved boat and its solar panels. Somehow, Haunui escapes fanfare. It seems a strange obscurity after the vessel's starring role alongside a German philanthropist, Auckland boatbuilders, a famous Maori actor and dozens of volunteers in a pan-Pacific voyage and upcoming film years in the making.
The Pacific Voyagers movement and spin-off movie, Our Blue Canoe, seem the product of an unbelievable dream. In 2007, philanthropist and filmmaker Dieter Paulmann established a foundation, Okeanos, to raise awareness about protecting oceans and marine life. Within a few years, seven canoes, based on centuries-old designs, were ready to traverse the Pacific, crews navigating sometimes by starlight, spreading a message of stewardship.
The film was due this winter. It's now expected to be released early next year.
Whale Rider star Rawiri Paratene championed the project. Volunteers across the Pacific signed up as the waka, or vaka, took shape at Auckland's Salthouse Boatbuilders. The canoes had similar dimensions and designs. Most have since been gifted to participant island states in the Pacific, which formed voyaging societies to crew and organise the project.
Haunui should at least soon have a placard and experienced sailor Hoturoa Barclay-Kerr says the canoe could even travel to Hawaii again.
But Paratene now has no role in the project, despite the interventions of a Fijian chief who sought to bridge an apparent rift between the actor and the philanthropist. Maori sailors back on land speak glowingly of their time on the voyage. Yet disquiet has grown as volunteers come home to an uncertain future and one crewman voices concerns about the project's legacy.

In Fiji, yachtsman and 1988 Olympian Colin Philp runs supplies from Viti Levu to stock Leleuvia resort 25km offshore. He works there as a manager. Taking a break from running errands in the 28C heat Phil recalls hearing of the project in 2009. "Initially, it was a bit of disbelief. We didn't believe it was going to happen, and it was too good to be true."
As Philp travelled to Auckland to see the vaka take shape, he became an adherent. He says the project's initial goals included a protest against the huge RIMPAC (Rim of the Pacific) allied naval exercises. RIMPAC 2010 featured gigantic aircraft carrier USS Ronald Reagan, 36 other vessels, tests of basic war fighting skills, a live Rolling Airframe Missile launch, firing at simulated targets, and a reception for distinguished guests.
"Paulmann was planning a movie about the problems the oceans face and looking for a metaphor to carry the message of how to treat the ocean to sustain it for future generations," the film's spokeswoman Faumuina Tafuna'i says. "In a meeting with Rarotongans, Ian Karika and Te Aturangi Nepia-Clamp, and film-maker Rawiri Paratene, the idea of the vaka journey emerged."
Philp says there was talk of wider initiatives to encourage private ship-owners to invest in technology that might reduce underwater engine noise.
He says in Hawaii, the response to the voyagers was initially dim. "The Hawaiians wouldn't have anything to do with it. They said: 'No, you can't come and protest. If you're going to come, it has to be peacefully.' So it took a fair bit of convincing."
That impasse was overcome. Voyage parameters broadened, yet immense challenges remained. Smaller Pacific islands needed to build the skills needed for the undertaking. Philp says Paulmann asked him to help with the logistics. Much contact-building was needed. But the message, melding environmental concerns with an appeal to traditional Pacific maritime expertise, was a winner. "Everywhere we went the reception was fantastic. People were willing to help."

Among the New Zealanders to sign up was Tauranga's Frank Te Mihinui Kawe. He had experience sailing traditional canoes but the new project's scale amazed him. "I was excited because it obviously represented quite a big growth in voyaging capacity. Until then, new waka were fewand far between. Then all of a sudden they were building seven of the mat once."
Kawe joined in 2009 and was soon on a 3000km trial voyage from American Samoa to New Zealand. "The overall aspirations of the voyage were in line with the major sponsor, Okeanos and Dieter Paulmann, who wanted to use the canoes to highlight environmental issues."
Soon, more countries earned visits from the seven majestic vaka. Emotional ceremonies depicted in the Blue Canoe trailer evoke a sense of long-delayed family reunion as distantly-related tribes overcome the tyranny of distance to share common bonds. The project also stressed the importance of oceans to biodiversity, climate and the natural cycles civilisation depends on.
Kawe visited San Diego, Hawaii, Tahiti and the Solomon Islands while skippering a waka, Te Matau a Maui. The trailer shows the clear, unpolluted Milky Way skies evoking the island constellation below. By day, lush production values record emotional welcoming ceremonies, the majesty of a breaching humpback, the rush of waves on to the bow. "Thatwas on the first leg," Kawe says of the high seas. "It was like that for seven days, 24 hours. We were really getting pounded and sailing quite hard but that's just part and parcel of being at sea."
Kawe's compatriot Te Aturangi Nepia-Clamp worked with Salthouse and Paulmann from early on. As the project's general manager, he helped set up voyaging societies across the Pacific.
Clamp had sailed in the 90s with waka Te Aurere and his skills now helped a new generation. He fondly remembers seeing newcomers react to the vast blue space and clear sky.
On one island stopover, the novices addressed schoolchildren. "I realised I'd becomeso used to sailingand then being welcomed and going through those protocols at each of the islands we arrived at," Nepia-Clamp says. "When I listened to them, giving their descriptions of their first experiences of voyaging and arriving, I was wondering whether we were on the same voyage, because their description was so accurate and full of passion and excitement."
Hoturoa Barclay-Kerr, who was Haunui's leader, said the wildlife in places was a revelation, especially in protected marine reserves. "Going through different parts of the Pacific...you'll see heaps of sharks and fish. Even on a little island like Fakarava (in the Tuamotu archipelago) there are so many fish and so many sharks, you can stand in the water and the sharks don't bother you because they're too busy eating fish."
Kawe and Barclay-Kerr speak glowingly of their time at sea, and of the project's legacy. In places, the voyagers spurred a resurgence of interest in traditional art and culture. Philp is also conscious of the relationships formed and adventures had. Yet he feels the full story has not been told.

Kawe and Barclay-Kerr do not know why Paratene left the project. The actor now starring in King Lear at Shakespeare's Globe in London is not keen to discuss reasons for his departure.The parting concerns Philp.
"He's an amazing guy, so influential, a gifted speaker and storyteller," Philp says. "I sailed with him, spent four days at sea with him. That was an amazing experience."
Philp says he raised the issue with Paulmann, too. "I said: I remember you guys at the beginning being very, very close friends. How did you let your relationship break down to a point where you only talk to each other through your lawyers? He just shook his head. And I said: Would you be willing to try to mend bridges?"
Philp says Paulmann agreed, and a traditional reconciliation ceremony to air the Fiji Islands Voyaging Society's concerns was set up in Levuka, the country's historic capital. One of Fiji's most respected chiefs presided.
"We flew Rawiri to Fiji when the fleet was passing through on its way to the Solomons. We asked Dieter to make sure he was here.
"We didn't tell himthere was going to be this ceremony. I did hint to him that we had invited Rawiri and it was a good opportunity for him to get back together - but he didn't show up."
Philp says at least the two men now talk to each other. Of greater concern to Philp is what legacy the project may leave, the future for volunteers who sacrificed much to be involved, and how the film will live up to its ideals.
Life after the voyage has apparently been a struggle for some volunteers, who made upmost of crew.
"They've given up a good part of their life for the voyage. Whether they're owed money or not, they're in a position now where they're struggling."
Philp also wonders how some smaller islands will service the vaka they were gifted. "These are million-dollar boats. You can imagine what a million-dollar boat costs in maintenance every year. They all need a new set of sails, they all need probably $50,000 to $100,000 spent on each canoe. That's where we're going to struggle. What we're afraid of is the canoes get to a point where they end up sitting on a beach or in a lagoon and just going to rot."
Late this week, Paulmann told the Herald on Sunday that the film would have a not-for-profit distribution strategy. The philanthropist would not say how Paratene became detached from the project or whether the actor would be involved again but said the two men now had "good relations".
Frank Te Mihinui Kawe says he trusted Paulmann, Okeanos and Kiwi director Mike Single to not exploit traditional imagery for financial gain. "We've always had the understanding that the film was not-for-profit, that any money earned from the film will just go back into environmental type projects."
"Everywhere the canoes went, there was a dramatic impact on the population," Kawe adds. "And perhaps it may take the film to fully realise that potential on a global level."
In describing Our Blue Canoe as "an odyssey unimaginable in scope, unrivalled in ambition, and unprecedented in history" they may well be telling the truth. Is there another 36,000km ocean voyage to rival this one?
Philp acknowledges the magnitude of the project and the friendships formed from it.
"The crew almost became cult heroes in Fiji and everywhere we go there's this whole resurgence of interest in traditional voyaging and the cultures around it. There'll always be that legacy."