The Government's willingness to bail out councils that break the law is angering the ratepayers who are paying the cost.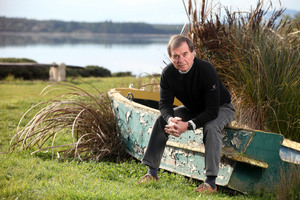 Bob Schmuke is known around Nelson for the fabulous artworks that adorn his home and garden.
A World of Wearable Arts sculpture sits where his property borders the Waimea Estuary, and a sculpture by Helensville artist Jeff Thomson floats in a duck pond.
But when it comes to setting rates, Schmuke would rather the local council employed more science than art. Since 1995, Schmuke has also owned a holiday home in Tata Beach, a small, tight-knit community of fewer than 50 homes on a slice of Golden Bay.
As with many holiday homes, the properties in Tata Beach and nearby Ligar Bay are not attached to council services. That wasn't a problem until 2006, when the Tasman District Council told ratepayers they would be chipping in for stormwater works despite not being connected.
And the more valuable their properties, the more they would pay.
Schmuke took the case to the Ombudsman, who considered the rate illegitimate.
But while that rate was being examined it was also found that from 2003 to 2008, rates for the entire district had been set and collected improperly.
The only way forward for the council was a validation bill - in effect to fix the council's mistakes retrospectively so it didn't have to refund money.
Validation bills aren't popular but sometimes are the only practical solution. In extreme cases, they allow illegal acts, misleading communication and delayed and non-existent reports and accounts to be ratified and made lawful.
Schmuke hopes that when the Tasman Validation Bill is reported back to the House, the clause relating to Tata Beach and Ligar Bay will be removed. It's not fair, he says, if the council uses a validation bill to squirm its way out of a tricky situation rather than go to court.
In Parliament, Labour MP Maryan Street said: "The former chief executive officer ... really bullied the ratepayers in that situation ... saying, 'Well, you haven't got enough money to contest this. We'll take it to Parliament and Parliament will fix it for us'." Schmuke says those who feel aggrieved by the situation should turn their attention further north, where the Kaipara District Council is using a validation bill to legalise even more serious illegalities.

Margaret Fish runs a cafe in Mangawhai Heads, where her pizza is renowned and her salt and pepper squid internationally acclaimed. Her local council, Kaipara, ran up enormous debts with a wastewater system known as EcoCare and the liability has been passed on to business and residential ratepayers.
EcoCare's cost doubled in 2006, but ratepayers were not told. For four long years they did not know the true cost of the scheme, and six years of rates were set illegally. Loans taken out were far larger than the public were consulted about and information was left out of rates assessments.
Yet no one recognised the seriousness of the problems until 2011: the council was $80 million in debt, including $58 million for EcoCare - and rates skyrocketed.
Fish says if she ran her business in the same way the council has operated, "I'd be up the creek without a paddle".
A report from law firm Simpson and Grierson found rates had not been set correctly, and the extent of the issues meant the Government should step in.
The Kaipara Validation Bill passed its first reading last month. Its sponsor, Northland MP Mike Sabin, said it was unpalatable but the only option. Not only will it make incorrectly struck rates valid, but it gives the green light to penalise ratepayers who have been striking in protest.
"Cock-ups were made and they still haven't addressed it," Fish says. "Now they're going to validate that all the rates set were set correctly? That's a load of crap."
James Dunne, from law firm Chen Palmer, says legislation dictates how councils must set rates. If they don't comply with statute, those rates are technically illegal and ratepayers shouldn't have to pay.
"But it often doesn't become clear until some way down the line and the council has to provide the service in the meantime."
So validation bills make the rates legal retrospectively, to allow councils to gather the cash to pay bills. In theory, councils could write off their debts or go bankrupt but that does not happen. Validation bills are driven by one thing: money. Infrastructure and services have already been paid for; if the council is told it has to refund the rates money that has been used to pay those bills, it's in trouble.
Anti-rates campaigner David Thornton said for the Tasman and Kaipara councils, the amount of money owing was so large the only way to collect it was to enact retrospective legislation.
"Ratepayers will always pay," he says. "They are caught whichever way they turn."
If the Kaipara validation bill is made law, says local bach owner Neil Tolich, every out-of-control council will have a blueprint for how to get off the hook.
"These were not a few innocent errors made by a couple of country hicks who hadn't read the rule book. This is about specific disregard for the laws that are meant to protect citizens."
The Mangawhai Residents and Ratepayers Association's own legal challenge is set down for next month.
Select committee submissions on the Kaipara bill have to be lodged at the end of this month. The Tasman bill is expected back in the House by next month.
Green MP Eugenie Sage says the situation is unfair and no MP would disagree. But validation bills can be the best of a bad bunch of options.
In Tasman, Schmuke says too few people realise what's happening under their noses - even a candidate elected to the council in a byelection didn't know about the bill. It's outrageous, he says.
Nobody on the Tasman council payroll will suffer any consequences.
"No one fixes anything. They are meant to be people's representatives," he says, "That's what really grates. They knew what they did was wrong but instead of admitting it, they just tried to tough it out."

Validation bills
• 1997
West Coast Regional Council: Validated the council in raising a loan of $1 million and made legitimate wrongly set rates.
• 1996
Tararua District Council: Validated illegally set rates from 1993 to 1996, and allowed the council to include charges for the Pongaroa water supply.
• 1994
Banks Peninsula District Council: The Lyttelton Borough general rate in 1989 exceeded 18c in the dollar on the annual value of rateable properties, in breach of the Local Government Act. The bill validated that. It also made legitimate 10 per cent penalties on unpaid rates.
• 1989
Kapiti Borough Council: The council illegally demanded a lump sum contribution scheme for the repayment of water and sewerage loans and coastal protection charges.