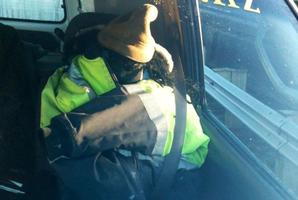 There was a dummy in the passenger seat - but the real dummy was the driver caught trying to trick his way through a transit lane.
The driver was stopped by police on July 1 as he drove along the T2 lane that runs along the northern motorway on-ramp at Constellation Drive in Albany.
While it appeared from a distance he had a passenger, as he got closer to police they realised not all was as it seemed in the vehicle.
Auckland's transit lanes are reserved for vehicles carrying not less than the number of people, including the driver, specified on the sign.
Passenger service vehicles such as taxis, regardless of whether or not they are carrying passengers and motorbikes are also permitted to use the lanes.
The Constellation Drive on-ramp is a T2, meaning vehicles using the lane must be carrying two or more people, including the driver.
Waitemata road policing manager Mark Fergus said police were doing routine monitoring of the T2 when they spotted the man on July 1.
"This guy has obviously been trying to get away with it. It's unlikely the stuff on the front seat just happened to look like a person, and it was buckled in," he told the Weekend Herald. "He certainly meant it to look like a passenger."
Mr Fergus said people had a range of ways and excuses for breaking the transit lane rules. One officer stopped a woman who had a baby capsule in the car with a doll strapped in, in order to claim the second occupant.
"In Karaka, a constable recently stopped a driver with a fully dressed mannequin in the rear seat - at least it was buckled in," said Mr Fergus.
"A lot of people plead ignorance, but it's obviously very well sign-posted. Others claim it's the first time they've done it, but we tend to find that's not the case at all.
"We say to people using the transit lanes who shouldn't be, why do you think your day is more important than the teacher sitting in the line of traffic, or the nurse trying to get to work that they are passing? What makes them think they should get where they are going faster?"
The dummy driver was fined $150, and told officers that he regularly used the same ploy to use the transit lanes as he travelled to work or back and forth from jobs during the day.
"The guy deliberately does it. He uses it regularly as a way to fast-track his day," Mr Fergus said. That kind of behaviour was bad manners and annoyed other road users. "Everyone else is following the rules and they stay there and wait."

Lane ways
• T2 lanes are for vehicles with two or more occupants. Cycles, motorcycles and mopeds can use them.
• T3 for any vehicles with three or more occupants, cycles, motorcycles and mopeds.
• $150 instant fine for infringements.