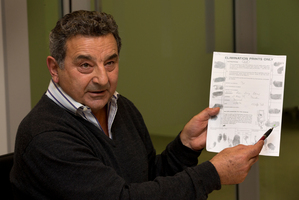 David Bain supporter Joe Karam says a second set of fingerprints of Robin Bain's thumb support the theory presented last month that the sooty parallel marks were from gunpowder residue.
Police had previously refuted the evidence, with Assistant Commissioner Malcolm Burgess saying fingerprints from Robin Bain showed white patches on the thumb which suggested cuts from "handyman" work.
"Had these been powder marks or smudges as claimed, we would expect to see a complete fingerprint image," Mr Burgess said.
Mr Karam said today what the police did not tell media was that there was a corresponding set of "elimination" prints, taken closer to the time Robin Bain died.
"You'll note I'm relying on prints that are on the police file."
"Revealingly, and mischievously," the white dot was not on the set of elimination prints taken the day before, Mr Karam said.
The white mark police relied on to refute the revelation was taken from a set of prints taken in the mortuary - and was caused by condensation, he said.
Mr Karam went on to say Robin Bain's fingerprints were never an issue during the original trial.
"I can tell you right now that these fingerprints have never been produced in any court."
There were no cuts or damage on the thumb where the sooty lines appeared, Mr Karam said.
"This is shown by evidence on the police's own file in the elimination fingerprints taken from Robin Bain, which they conveniently or negligently failed to produce."
"The marks in question are not cuts, they are not abrasions, they are not burns," Mr Karam said.
As the sooty marks seemed to have come off easily, it proved they were not on Robert Bain's hand for long.
"If they were from the day before, they would have already rubbed off," he said.
"They are sooty marks. They are on the same finger where deposits from loading a gun into a magazine [would have been]," Mr Karam said.
"Therefore [Robin] Bain was the last one to handle and use the gun.
"The two marks on the thumb match, to the millimetre, the magazine."
Mr Karam blamed poor police handling of Robin Bain's body for the marks not being picked up earlier.
"If his hands had been placed in protective bags, they [the marks] would have been picked up at the mortuary."
"My question for those who say I'm biased is - what are these marks from?" Mr Karam said today.
David Bain - who was originally convicted of his family's murders until an acquittal in 2009 - did not know whether to "laugh or cry" following the revelation,
Mr Karam said David believed the revelation did not make him "any more innocent than he was 19 years ago".
"He was innocent then and he's innocent now."
David cried over evidence of his innocence in physical form coming up 19 years after being lost, Mr Karam said.
Last month, experts told TV3's 3rd Degree that parallel markings on Robin Bain's thumb were consistent with him firing a gun that morning.
The marks - not noticed in the 19 years since the murder - appeared to match those made by gunpowder residue when loading the magazine of a rifle shortly after it had been fired.
Police dismissed the theory as "interesting", but said it had been taken out of context.
Mr Karam said he had taken more than two weeks to respond to the revelation due to the death of this father.
In response, Mr Burgess said Robin Bain's fingerprints, released today by Mr Karam, were examined at the time by a police fingerprint expert who determined they were not of adequate quality.
That fingerprint expert then took two further sets of prints the following day, on 22nd June 1994, Mr Burgess said in a statement. "These are the quality prints which have always been relied on in this case by fingerprint experts.
"A copy of the right thumb print from one of these sets taken by the fingerprint expert on 22nd June was issued by police following last month's 3rd Degree programme."
Police are applying for access to all of the original prints. These are held by the court, not by police, the statement said.
"These will be examined thoroughly to see if they assist in determining the nature of the marks on Robin Bain's thumb.
"Police have made it clear there could be several possibilities to explain these marks. Right now any explanation for them remains a theory."
It remains a real possibility that even after the originals have been examined there will still be no definite conclusion regarding the marks, Mr Burgess said.
- Additional reporting David Fisher
"It would have been helpful if Mr Bain's supporters raised these issues direct with police for clarification before launching them into the media with claims of wrongdoing or incompetence."
- APNZ