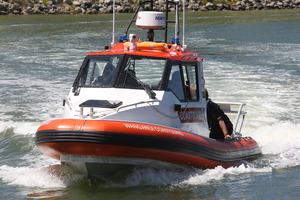 An act of vandalism could have resulted in the loss of a $350,000 catamaran in the Whanganui River yesterday but for the timely intervention of the Wanganui Coastguard.
The 12m Fatcat was let loose from its moorings at the city marina late last night in what owner Owen Rush called an "act of mindless vandalism".
The catamaran, powered by twin outboard motors, was recovered about 2km downstream around mid-morning yesterday by the Coastguard rescue vessel.
Mr Rush, a retired contractor from Feilding, had his boat tied up at the marina by 11am yesterday but not before an anxious wait for the Coastguard to catch up with his boat in the river opposite the Imlay meat works.
He drove over from Feilding after getting a call from Coastguard earlier yesterday.
"We haven't had a chance to look to see if there's any damage yet, but they haven't broken into the boat and taken anything," he said after the boat was berthed.
"I'm picking that for it to have drifted that far it was let go about 11 o'clock last night when it was high tide," he said.
He said it was the first time anything like had happened in the four years he has had his boat moored in Wanganui.
"I just don't know how it didn't smash into the other boats moored up here," he said.
Mr Rush said his boat had been left virtually untouched in the time he had shifted its mooring from the Wanganui port basin upstream to the city marina.
"We know kids sometimes get on to it and there's been a bit of graffiti, but nothing as serious as what happened last night," he said.
He said people visiting the marina had told him it was nice to see boats moored there again.
"We keep it here because it's a lot safer than being berthed in the harbour basin," Mr Rush said.
"I personally didn't have the boat vandalised when we in the harbour but others have. The seas get pretty rough down there, and we got smashed up a bit once so decided to come up here. Until now it's been good."
He said whoever let the Fatcat go simply undid its moorings. He said he would be looking at tighter security from now on, using chains and padlocks.
The Fatcat was insured.
Mr Rush thanked the Wanganui Coastguard for its help in recovering his boat.
For more articles from this region, go to Wanganui Chronicle