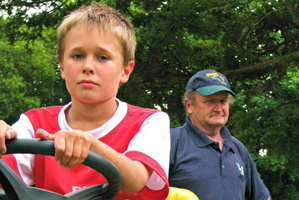 A brazen thief distracted staff and stole money from a young Greytown boy's fundraiser for his sick grandfather.
Ceejay Dennes, 10, who is shaving his hair off in support of terminally ill Neil Smith is "absolutely gutted", said his aunt, Vicky Smith-Butters.
Money in a donation box set up by the boy and his family to raise money for the Cancer Society Wairarapa was stolen from the South Wairarapa Workingmen's Club last Friday afternoon.
David Linton, the club's manager, was working at the time.
He said the thief wasn't from the club.
The man had distracted staff at the bar while he stole about $40, which was in the box on the bar, said Mr Linton. He realised the money had been stolen about half an hour after the man left.
"The box was slightly open when I walked past it. I had put a note in there earlier and I looked in and all the notes were gone."
Police are investigating the theft.
"It sucks," said Mrs Smith-Butters.
Luckily, the majority of the money raised - about $2300 - had been donated directly to the Cancer Society through an online fundraiser.
Mrs Smith-Butters will also have her hair shaved off in support of her dad, on the same day as Ceejay.
"I said to him a couple of weeks ago, 'if you do it, Aunty will do it'."
Mrs Smith-Butters said the family was blown away by the huge show of community support.
She said she was thankful to everyone, not only with the donations but offers of help.
Mrs Smith-Butters was proud of Ceejay and her father, who was in his fourth week of treatment.
"He's got a hell of a fight on his hands. Why does it have to happen to such a nice person?"
Mrs Smith-Butters said that, at first, her father didn't think shaving off her hair was something a female would want to do.
"He's chuffed that we want to do it."
Her father had been in Greytown all his life and everyone wanted to get behind him.
"He loves doing stuff for others, it's time we do something for him," she said. She was not worried about having no hair and had received lots of offers of beanies: "It will be something different."
Mrs Smith-Butters and Ceejay will get their "mop chops for Poppa" at 4.30pm on July 26 at the South Wairarapa Workingmen's Club.
For more articles from this region, go to Wairarapa Times-Age