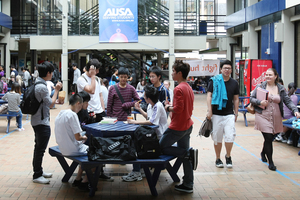 A management restructure at Immigration New Zealand will result in 50 branch and regional managerial positions being disestablished, along with 15 immigration manager roles.
The agency said a number of positions were being created, and this would result in a net job loss of 23.
As a result of the restructure, acting fraud and compliance manager Dean Blakemore will be transferred to Beijing to head the agency's fraud-plagued branch.
Last year, 299 student visas approved at the branch were found with fraudulent supporting documents and more than half of the applicants are still in New Zealand unlawfully.
More than half of the 82 applications for new visas by Chinese students who arrived on fraudulent Beijing-approved student visas have been declined.
An audit report in February by PricewaterhouseCoopers took the agency to task over its risk management.
Mr Blakemore said part of his role would be to "enhance the processes" in Beijing.
Processes at the Beijing office have been tightened since the fraud cases.
"Beijing has been a problem, and it is important that we get it right there and be one step ahead," Mr Blakemore said.
"China's a growing market in all immigration categories, from visitors, students to investors, and processes have been adjusted to mitigate risks."
Mr Blakemore starts work as branch manager for Beijing on August 23.