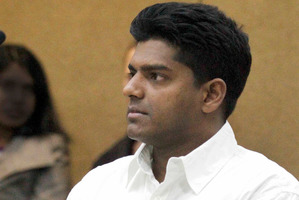 Canterbury dairy farmer Sameera Chandrasena Battelage was "like a brother" to one man standing trial for his murder, a court heard today.
Viraj Alahakoon, 35, says he was woken by murder co-accused Thuvan Prawesh Sawal, 24, and was confronted with a "shocking scene", before being ordered to clean up and later to lie to police.
Alahakoon claims it was Sawal who cut Mr Battelage's throat and set his body on fire at Mr Battelage's farmhouse on Domain Rd, just outside Oxford in North Canterbury on February 23 last year.
Both accused blame each other.
The Crown says Mr Battelage's neck was stabbed or cut six times before his body was doused in petrol and set alight.
Today, Alahakoon took the stand on the 12th day of the pair's High Court murder trial in Christchurch to tell Mr Battelage's family in court that he was "really sorry" for their loss.
Alahakoon said he had "tried hard to stop" what he could, and that he was "so sorry at this stage".
Defence counsel Pip Hall QC said Alahakoon was "very scared" after finding his friend Mr Battelage dead.
Sawal took charge, ordered Alahakoon to clean up, and gave him instructions to follow, Mr Hall said.
"He did what he was ordered to do," Mr Hall said.
Alahakoon did not murder his friend, who he played cricket with at Oxford Cricket Club, and he did not set fire to his house, Mr Hall said.
Alahakoon said Mr Battelage had become a good friend, after meeting around 2007 or 2008, and playing cricket together at Oxford Cricket Club.
"I totally believed he was like a brother to me," adding that Sawal was an equally good friend.
The Crown earlier told the court that Alahakoon and Sawal had visited Mr Battelage - who had recently been having an affair with a woman they knew - on the night he died.
Two days before the alleged murder, Alahakoon admits that he and Sawal went to visit the Oxford farmhouse together.
They wanted to confront him over the affair.
It was Sawal's idea, he claimed, but denied having any plans to beat him up over the affair.
"My anger wasn't with Sameera," Alahakoon said.
But when they found he wasn't at home, they returned to Christchurch.
They went back two days later on February 22, planning to watch a New Zealand versus South Africa T20 cricket match on TV and to speak to Mr Battelage about the affair.
Alahakoon said he didn't see a petrol canister being loaded into the car or any weapon.
They spoke about the affair on the way to Oxford, he said.
"He (Sawal) said he was going to talk (to Mr Battelage) and he would somehow make this whole problem go away in order for us all to live peacefully," Alahakoon said.
Claims that the pair talked about assaulting Mr Battelage were untrue, he said.
He denied saying that he was angry with Mr Battelage and that he wanted to beat him up or fight him.
All three went to Oxford Working Mens Club where they drank and watched cricket on TV, before returning to his home.
Mr Battelage then sent text messages to friends, saying "something going wrong".
His badly charred body was found by firefighters later that morning.
Alahakoon is also charged with assaulting a woman, who has name suppression, with a pair of scissors on December 5, 2011, and again on Boxing Day that year.
The trial, before Justice Christian Whata, continues.
- APNZ