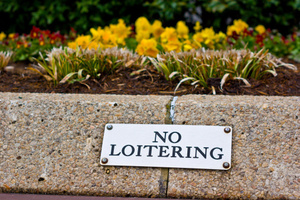 A Hamilton radio personality - sick of his fiance being leered at and heckled - wants action to address antisocial behaviour in the central city's plaza.
Mark Bunting said the final straw came recently. "Kharyn had to step over a couple of pot smokers camped in the doorway with full-face balaclavas. I thought this is getting too much," Mr Bunting said.
The call for change isn't about "homeless bashing". He said the issue was about people being intimidated, not just by some of the vagrant population but also by groups of young people who hang out in Garden Place.
"People are quite tolerant of the homeless. They mostly keep to themselves.
"It's more the truant school kids [causing a problem]. You'd halve the problem if you sent the school kids back to school."
Mr Bunting's suggested solution is turning parking wardens into city ambassadors. "They could enforce parking but you could train them so they know where the bargains are, what's happening in the CBD, be fully first aid trained and give them the power to move people along."
Mr Bunting said he loved Garden Place but it was "being held back by some toe rags".
"Let's fill it up with something good, whether it's music or whatever. It's a natural venue. I have great hopes for it."
Mr Bunting also questions why, despite Hamilton City Council prohibiting smoking in Garden Place last November, people continued to smoke there. "I've got nothing against smokers but the council made it a non-smoking venue."
Business operators in Garden Place agree there is a problem.
Harlem Soup Kitchen manager Julian Bryant said the business had an issue with teenagers hanging around the shop front when it was located opposite the library.
Since it moved to the south side, near Victoria St, Harlem has "a different demographic of loiterers hanging around ... people hanging around smoking and drinking". Mr Bryant said their presence was off-putting and believes it affects trading.
Garden Place Dental practice manager Kathy, who asked that her surname be withheld for fear of retribution, regularly moves on from the entrance to the clinic.
She said the issue was at its worst around lunchtime and when it's cold and wet. "It's not so much the homeless. It's kids who should be at school or studying."
Kathy said the groups often smoked synthetic cannabis and their language was "disgusting".
She suggested installing a kiosk in the centre of the area and staffing it with retired police officers and/or Maori wardens. She'd also like more regular police patrols.
- Hamilton News
- APNZ