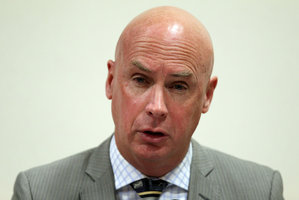 Troubled state miner Solid Energy doled out more than $15 million to charities in the decade before its parlous financial state was revealed earlier this year.
The state-owned enterprise, which revealed in February it owed $390 million and has cut hundreds of jobs, gave $15.3 million to community initiatives between 2001 and June last year.
The sponsorship arrangements include half a million dollars to the Christchurch Symphony Orchestra through its governing body, Arts Management Ltd.
The grants began in July 2006 and totalled $550,000 by last year. Almost all the money went to the orchestra's music education and outreach programme but $50,000 helped pay for the orchestra to tour Japan in 2011. That included $5000 for a TVNZ crew.
Solid Energy chief executive Don Elder's wife, Therese Arseneau, became chairwoman of Arts Management in 2010 and executive chairwoman in 2011.
Elder, who resigned from Solid Energy this year, and Arseneau, on leave from Arts Management, are overseas and could not be contacted. Representatives from Solid Energy and the orchestra said any potential conflict of interest was managed.
Engineering, Printing and Manufacturing Union assistant national secretary Ged O'Connell said spending $15.3 million on sponsorship in 11 years was a concern.
Along with spending on bonuses and vehicles, it was another example of the "poor management" which cost hundreds of jobs, he said.
Labour's state-owned enterprises spokesman, Clayton Cosgrove, agreed with Solid Energy supporting its community.
But he said it should have ended when the company's dire financial position became apparent.
Arts Management acting executive chairman Richard Ballantyne said Arseneau had no earlier involvement in the Christchurch Symphony Orchestra, or Southern Opera, before 2010.
She revealed she was married to Elder and ways of managing conflict of interest problems were agreed.
Solid Energy stakeholder relations manager Vicki Blyth said the $15.3m donated represented 0.2 per cent of the company's total revenue of $6.7 billion between 2001 and June 2012.
Asked what those who lost their jobs might think about the donations, she said: "Hindsight's a fantastic thing.
"When you look at our accounts, it's only last year the company made a loss; prior to that it was returning reasonable profits."