Radio banter from years ago is revived and put online to help speakers recover a lost conversational style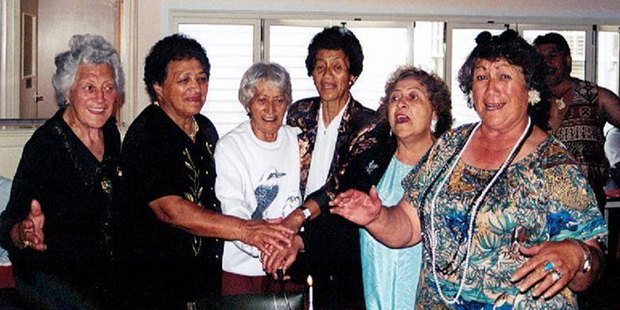 Two cheeky, long-gone grandmothers could help te reo learners fill in the gaps in their conversations, says researcher Dr Joe Te Rito.
The Nga Pae o te Maramatanga Centre of Research Excellence academic is also the chairman of Radio Kahungunu in Hawkes Bay.
Since 2009 he's been delving into the station's archives, particularly looking at former kaumatua host Apikara Rarere and her sometime sidekick Irirangi (Lil) Robin.
Dr Te Rito says second language learners have become expert at reading and writing the language, but many lack the confidence to converse at length in it, so kiwaha, informal language, is being lost.
"People freeze when they come to speak, and for me that's all about lack of familiarity for your ears.
"It's conversation we need to strengthen.
"A lot of people can converse but it's constrained.
"Even saying little filler words, there's a lot that have been lost.
"People can learn the basic structure but then they need the meat to fill it out."
Mai i nga taringa ki te arero, a $200,000 project, aims to use conversations captured between the radio host and her sidekick in "talking books", available online, giving learners access to the audio and transcripts to reinforce learning.
Radio Kahungunu started in 1988. One of the first on board was Mrs Rarere, who ran the kaumatua show.
"Nanny Lil" was a weekly visitor, and their brief was just to talk.
"They were so staunch and dedicated to the radio," Dr Te Rito said.
"Nanny Api was running the desk all by herself, a 70-year-old.
"They spoke about anything from traditional knowledge, rongoa [medicine], birthing techniques, how they had their last baby, what it was called. National politics."
But they'd also joke about the mundane.
"I loved them. To me they were just the best thing ... and through them we become familiar with the sounds - how they lengthen and shorten, how they rise and fall and where the emphasis is on words and the whole music of the language."
It's a model many iwi radio stations could easily replicate from their treasure troves of material built up over more than 20 years.
An advantage of this would be that listeners would be exposed to their own dialects.
A feast for the ears
Nanny Lil: A, tena ano koutou katoa e whakarongo mai nei ki Te Reo Irirangi o Ngati Kahungunu, e whakapaoho atu nei ki a koutou i tenei rangi tino ataahua ... a ... ki te rangi ... te tau ... Tau Pekepeke ... pea.
Translation: Ah, greetings once again to you all listening in to Radio Kahungunu, broadcasting to you all on this really beautiful day ... ah ... on the day ... the year ... Leap Year rather.
Nanny Apikara: Ae
Translation: Yes
Nanny Lil: Ae, noreira, nga mea o koutou kai te pirangi peke atu ki etahi moenga ra, kia tupato!
Yes, therefore, those of you who want to leap into other beds, be careful!
Nanny Apikara: Ko nga wahine tou ra te mea, ka peke, e hoa.
It's the women in fact who will jump, friend.
Nanny Lil: A, mo nga wahine nei.
Ah, so much for these women.
Nanny Apikara: Ee!
[Hardcase exclamation.]
* He hakari mo o taringa
* Radio Kahungunu archival records


Translation
Ka taea e enei kuia tokorua whakatoi nei te awhina i nga akonga o te reo ki te whakakiki i nga wharuarua o a ratau whakawhitiwhiti korero, hei ta te kairangahau a Takuta Joe Te Rito.
Ko tenei pumatauranga o Nga Pae o te Maramatanga ano te tiamana o Te Reo Irirangi o Ngati Kahungungu i Te Matau a Maui. Mai i te tau 2009 e ruku ana ia ki nga puranga korero a te teihana, otira me te tirotiro ano ki nga kaihautu korero kaumatua o mua a Apikara Rarere raua ko tana piki o etahi wa a Irirangi (Lil) Robin.
Hei ta Takuta Te Rito kua tohunga nga kaikorero reo tuarua ki te panui me te tuhi i te reo, engari kaore i te tino pakari te reo korero, no reira kei te ngaro nga korero kiwaha.
"Ka ohorere te tangata ina korero ia, a, ki a au he kore i waia no nga taringa ki nga korero."
"Me whakakaha e tatau te reo korero. He maha te hunga ka taea te korero engari he whaiti rawa. Tae atu ki nga kupu honohono, he maha nga mea kua ngaro. Ka ako te tangata i te whakatakotoranga mama engari me whai kikokiko hei whakakiki haere."
Ko te whainga a Mai i nga taringa ki te arero, he kaupapa $200,000, he whakamahi korerorero i waenga i nga kaihautu reo irirangi me tana piki i roto i nga "pukapuka korero", e watea i runga ipurangi, e whai wahi mai ai nga akonga ki te torotoro a-taringa, a-tuhi hoki i nga korerorero hei whakau i nga akoranga. I timata Te Reo Irirangi o Ngati Kahungungu i te tau 1988. Ko tetahi o nga kaimahi tuatahi ko Mrs Rarere, ko ia te kaiwhakahaere o te hotaka kaumatua. He manuhiri a "Nanny Lil" i haere atu ia wiki, a, ko ta raua mahi he korero noa iho.
"I pumau, i kaingakau hoki raua ki te reo irirangi," hei ta Takuta Te Rito.
"I te whakahaere a Nanny Api i te tepu ko ia anake, e 70 ona tau. I korero raua mo nga momo kaupapa katoa mai i nga matauranga tuturu, rongoa, tikanga whakawhanau, pehea ta raua whakawhanau i a raua pepi whakamutunga, me nga ingoa hoki. Tae atu ki nga korero torangapu o te motu."
Engari ka korero ngahau ano raua mo te kore noa iho.
"Aroha nui au ki a raua. Ki a au he tino pai raua ... na raua i waia ai matau ki nga tangi - te roa me te poto, te ahua o te piki me te heke me te wahi o te kupu hei ata whakau, tae atu hoki ki te puoro o te reo."
He tauira mama tenei hei whai ma nga reo irirangi a-iwi mai i a ratau puranga korero kua kohia mai i roto i te 20 tau. Ko tetahi painga o tenei ka rongo nga kaiwhakarongo i o ratau ake mita.