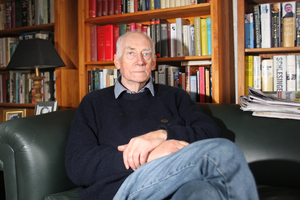 The grieving family of murder victim Derek Round have expressed relief at his killer's guilty plea.
Michael Umanui Werahiko pleaded guilty to murdering Mr Round when he appeared before the High Court at Wellington yesterday via videolink from the High Court at Wanganui. He will be sentenced on August 26.
Mr Round, 77, was found dead in the living room of his Wanganui home on May 17 last year.
An autopsy found he had been beaten about the head, causing multiple skull fractures, and died in the evening of the day before he was found.
Speaking on behalf of the Round family yesterday, daughter Susan Rebergen said the family was relieved to hear Werahiko had pleaded guilty to her father's murder and that they would not have to go through the rigours of a trial.
Mr Round had a remarkable career in journalism which included working as a war correspondent during the Vietnam War, being one of the last journalists to escape from South Vietnam when Saigon fell.
He worked for Reuters, as bureau chief for news agencies in London, Singapore and Hong Kong, and in senior roles for the New Zealand Press Association as its political editor at the parliamentary press gallery and its editor for five years.
In his later years, he moved to Martinborough, working as a sub-editor on the Wairarapa Times-Age and also opened an antiquarian book shop in Martinborough before he moved to Greytown.
There, he opened a second-hand book shop and lived in a section of the historic Greytown Borough Chambers on Main Street.
Mr Round took an active role in politics, both at local and national level. He was chairman of the Martinborough Community Board and once unsuccessfully sought the mayoralty of South Wairarapa.
Daughter Sally and son-in-law Mike Laven bought and redeveloped the Martinborough Hotel, credited with helping to revive the town as a popular visitor and tourist destination.
In 2010, Mr Round was made a member of the New Zealand Order of Merit for services to journalism.
Another daughter, Susan, is a qualified nurse and married to Aalbert Rebergen, who is recognised as an environmental and conservation expert.
Son Mark Round is one of the country's leading press photographers.
Mr Round moved to Wanganui and only weeks before his death journeyed to Wairarapa visiting friends at the Times-Age and telling of his plans to write a book while living in Wanganui.
His shock death was met with dismay in Wairarapa, with people paying tribute to a man remembered here as stately and gentle, and who was always available to help others and liked to entertain friends.
He always took the time to instruct and encourage young journalists.