Man saved from blowhole after fall on romantic beach visit just happy to be moving on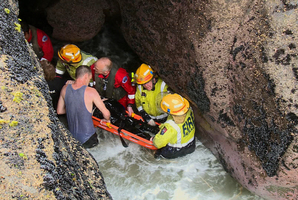 It is eight months since a romantic date on the beach turned to chaos for Aucklander Aaron Mitchell, who slipped and fell down a blowhole - seriously injuring his spine and pelvis.
The 22-year-old from the North Shore was with his girlfriend at Muriwai Beach last October when he slipped and fell 5m down a blowhole.
He seriously injured his spine and broke his pelvis in three places.
"My girlfriend and I planned on going for a walk along the beach and having dinner ... while watching the sunset - you know, a little romantic thing," he says. "But it didn't quite end up going that way."
Mr Mitchell's dramatic rescue will be screened for the first time tonight in new TV2 series Code:1, a programme following the Auckland Westpac Rescue Helicopter Trust.
The video shows Mr Mitchell - screaming in pain - struggling in the water below. A member of the public, later identified as Jordan Rippey, jumps down and helps to keep him afloat before rescuers arrive.
Mr Mitchell is later seen being winched to safety by Westpac rescue helicopter staff and lifeguards.
Yesterday, he said he had worked hard to get to where he is today.
He knows how lucky he is to be alive and doesn't like to think about what could have happened had it not been for his rescuers and former girlfriend, who raised the alarm.
"I haven't been back - not yet. I don't like thinking about that day. I have the odd flashback, but I try not to think about it. I haven't actually seen the video and my shift [today] is from 4 to 9pm, so I probably won't see it, which is fine. I just think of it like, you know, sh** happens. You've just got to move on."
After undergoing surgery, Mr Mitchell spent several weeks in hospital and had months of physiotherapy.
He was about 140kg before he went into hospital and dropped 20kg. He has also had to do special exercises and now cycles 2km every day to his job at the Wairau Rd Pak'n Save.
Mr Mitchell says being able to get back on his feet and going back to fulltime work has been a big reward for him.
"That's what makes me happy. I get to bike to work and do my job and that's all good for me.
"I'm thankful for all the people who helped me that day and I just want to move forward in my life. I'm looking after myself a bit better too and life is all good for me now."
• Code:1 debuts on TV 2 tonight at 8 o'clock.