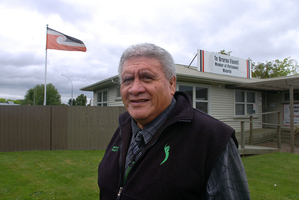 The Maori Party's president Pem Bird will step down from the role at the party's conference in 10 days after serving for three years, completing the hat-trick in the turn over of its leadership positions.
Two members have put their names forward to replace him, including district health board manager and Ngati Whatua chairperson Naida Glavish and George Ngatai, a business consultant who recently headed Destiny Church's social services arm Te Oranga Ake.
Mr Bird was elected as president in 2010 after the party's founding president Whatarangi Winiata retired from the role. The party elects leadership positions for three year terms, and Mr Bird decided not to seek another term.
He led the party through its most turbulent times - including overseeing the disciplinary action that resulted in Hone Harawira's departure from the Maori Party, the retirement decision of Tariana Turia and Te Ururoa Flavell's challenge against Pita Sharples for the leadership.
The latter was resolved this week when Dr Sharples announced he would resign the post. However, Mr Bird had been criticised , including by Dr Sharples, for allowing the matter to drag on.
Mr Flavell is expected to be chosen as the new male co-leader at the party's AGM.
Naida Glavish came to national attention when she was Naida Pou and began answering calls with "kia ora" as a tolls operator. She was disciplined, but the resulting outcry saved her. She has since been honoured for her efforts to reinvigorate te Reo, and is also general manager of Maori health and tikanga adviser for the Auckland District Health Board. She also chairs Te Runanga o Ngati Whatua.
Mr Ngatai is the co-chair of Dr Sharples' Tamaki Makaurau electorate. He is the a director of BDO Marketing and Business Solutions, and until recently headed the Destiny Church's Te Oranga Ake. He was also the chairman of the Safer Aotearoa Family Violence Prevention Network.