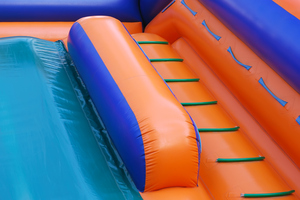 A Northland company has pleaded guilty to breaching health and safety legislation after four children were injured when a bouncy slide blew away at a Christmas party.
The Ministry of Business Innovation and Employment laid the charge against Kerikeri company Trailblazers Northland Ltd over an incident at Whangarei's Heritage Park on November 17 last year.
The incident happened during a gathering of ASB Bank staff at the park for an annual children's Christmas party.
A Northland ambulance official said at the time a wind gust was believed to have picked up the slide and dragged it about 20 metres. Four children were taken to hospital.
It was understood twin 6-year-old boys suffered broken arms and an 8-year-old girl was concussed.
The company pleaded guilty today in Whangarei District Court to one charge laid under the Health and Safety in Employment Act of failing to take all practicable steps to ensure the inflatable slide was adequately secured and did not cause any harm.
It will be sentenced on September 27.
Melinda Harbour, who owns the company with her partner Neil Sutherland, told APNZ last month she was "extremely remorseful'' and they intended to accept the allegation that the slide was not properly secured.
The company's lawyer said earlier that Trailblazers had been operating for 20 years in Northland without incident prior to the bouncy slide mishap.
For more articles from this region, go to Northern Advocate