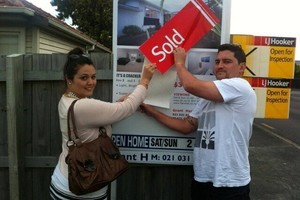 Tommy King, unlike his fiancee Emily Williams, was not yet eligible to access KiwiSaver when they started looking for their first home. So the Auckland couple hatched a plan.
Marketing manager Ms Williams had been in the scheme since she returned from her OE in 2007 so had five years of savings - $22,000 - to access as well as a first-home subsidy of $5000.
Teacher Mr King fell six months short of the three-year minimum contribution period, but wants to wait until he's been in five years anyway to get the maximum subsidy.
Keen to get on the property ladder as soon as possible, the pair decided to use Ms Williams' savings and subsidy, as well as about $45,000 they had in separate savings between them, to buy their $320,000, two-bedroom unit in Great North Rd in Auckland's Waterview.
"We're in the process of doing it up at the moment," Ms Williams said. "It was definitely a do-up, it wasn't your ideal first home."
Once Mr King hits his five-year contribution period, the couple will start looking for a bigger home, using his first-home subsidy and savings.
Ms Williams said they were saving for their wedding in March, and afterwards would keep saving with the aim of paying off their mortgage within six or seven years.
She said she didn't think she would have been able to purchase her first home so soon if she hadn't been signed up to KiwiSaver.
The couple previously lived in Grey Lynn, paying $320 a week in rent. Their mortgage repayments are about $200 extra.