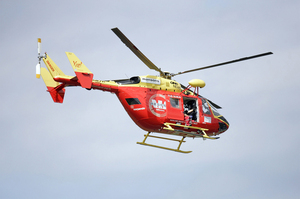 Three fishermen were plucked from the ocean after their boat overturned off the Waikato coast last night.
Two men were wearing lifejackets and clinging to the hull of their 7m boat, named Reel Runner, while a third was found floating nearby without a life jacket.
The trio activated an emergency beacon at 5.45pm and a Westpac Rescue Helicopter and Coastguard vessel found them 11 nautical miles northwest of Kawhia Harbour.
Rescue Coordination Centre New Zealand (RCCNZ) spokeswoman Sarah Brazil said they contacted the partner of one of the boaties.
"We were able to ... establish they were out fishing and were due back at 6pm.''
The men were taken to Raglan where they were treated for moderate injuries.
Brazil said the beacon and the fact two were wearing life jackets had probably saved their lives.
"Their distress beacon was able to raise the alarm and get a pretty swift response. Had they not had that the outcome could be very different.''