Kiwi invention sorts out genuine from counterfeit to protect our exports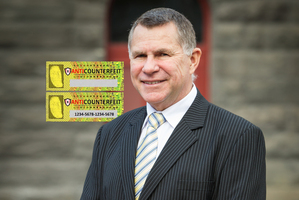 Kiwi innovators have devised a 3D holographic label to protect exports from counterfeiting.
The tamper-proof label allows buyers to scratch off a layer to reveal a code that can be checked on a website to verify the product's authenticity.
This week the Government announced a wide-ranging plan to protect the country's "food assurance systems" to match rapid growth in infant formula exports.
Entrepreneur Alan Rolston and his son-in-law, David Mills, have already moved to prevent multi-billion-dollar rip-offs from killing opportunities for Kiwis in China.
"Two years ago, we decided we would get involved in the baby formula industry," Rolston said. "To enter the Chinese market we need to protect ourselves."
Rolston said China's one-child policies created the "4-2-1 effect" where four grandparents often had just one grandchild between them and "a lot of money goes into looking after that child".
Creating a high-quality formula, only to find it being ripped off, was unbearable, Rolston said.
His company, Anticounterfeit, developed a 16-digit security code and tamper-proof security that let consumers check the integrity of their product on a website.
The firm developed numeric codes, combined with embedded fingerprints and other secret technology in a hologram on a label.
"If someone scratches off that number and goes to the manufacturer's website it will say: 'This product is genuine'."
Rolston and Mills are also working on a version for smartphones.
Infant formula exports are valued at about $1 billion a year to New Zealand.
A total of $600 million of that is exported to China. Anticounterfeit hopes to make the technology available to all major exporters.
Intellectual property consultant Murray Stott welcomed moves to give overseas consumers a means to verify the integrity of New Zealand products.
"It sounds heaven-sent."
Infant Nutrition Council chief executive Jan Carey said exporters were worried about authenticity as products moved from producers to shop shelves.