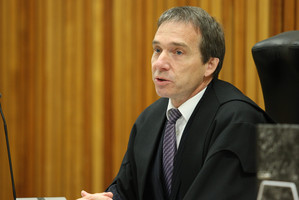 A judge has called on Northlanders to take action to reduce high rates of murder and other violent offences in the region, before sentencing a man to a lengthy jail term for manslaughter.
Justice Mark Woolford said he was concerned that Northland led the rest of New Zealand last year on the number of homicide and related offences and acts intended to cause injury.
He made the comments in the High Court at Whangarei yesterday while sentencing Patrick Tepana, 44, to eight and a half years in jail for killing his stepfather Christopher Edwards, 61, after a row during a drinking session at Te Kopuru early last year.
The Crown told the jury during the trial that Tepana assaulted Mr Edwards because he thought his stepfather had "stirred" Tepana's partner up.
Justice Woolford said he would take into account last year's Northland statistics on the most serious crimes such as murder and assault that caused serious injury or death while sentencing Tepana.
Police figures show there was one recorded murder in Northland in 2011 and two last year.
In comparison, the region has already had four homicide cases this year, with one currently being investigated in South Hokianga.
Just this week, police found a body in the Far North they believe is that of missing Northlander Barbara Moka. The homicide case in still under investigation.
In January, Whangarei mother of two Patricia Anne McGrath died in hospital after a domestic dispute. Phillip Andre Mahanga, 33, pleaded guilty to manslaughter and was remanded in custody until July 26 for sentencing.
Carmen Maheno and her husband Ivan were fatally shot in Kaitaia in May. Edwin Harvey Maheno, 38, was remanded in custody to appear before the District Court on July 29 for a hearing to determine his fitness to plead.
Meanwhile, in court yesterday, Crown prosecutor Anna Patterson said Tepana was on bail at the Te Kopuru address for assaulting his partner Angela Joseph when he punched Mr Edwards repeatedly. Mr Edwards died three days later.
The attack on a vulnerable person was unprovoked and resulted in a loss of life over a completely "irrational jealousy", she submitted.
Defence lawyer Chris Muston said it was not a case of prolonged beating, no kicking to the head or loss of consciousness.
Justice Woolford said Tepana had been a victim of violence while growing up and that his criminal records dated back to 1986.
He had nine previous convictions for assault for which he has received seven separate jail terms.
Tepana would not be eligible for any discount as he took the case to trial, the judge said.
He would be eligible for parole after serving five years.
For more articles from this region, go to Northern Advocate