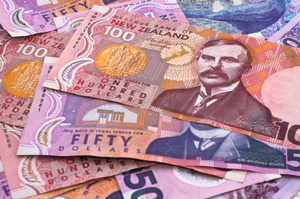 A world without cash is a real prospect according to some commentators, and everyone from retailers to the homeless will have to adapt.
A survey by business intelligence provider RFi found that 41 per cent of adults used less cash over the past 12 months. Charge card and cheque use dropped, while contactless payments had a corresponding boost.
Technology commentator Peter Griffin said this trend would continue, forecasting that in two to five years cash would be something of a novelty, and by 2030 money minting machines would be silent.
Street beggars would have smartphones within five years - "a really entry-level smartphone, that they'll be able to tap against someone else's walking down the street to get some credits".
Mr Griffin said the race was on between technology companies Google, Samsung and Apple and financial giants MasterCard and Visa to develop the payment method of the future.
Visa New Zealand and South Pacific manager Caroline Ada said awareness of emerging payment methods such as contactless cards was high in New Zealand, with two-thirds of consumers knowing about the "wave and go" method for purchases under $80.
There were now nearly 10,000 contactless terminals in the country.
The Breast Cancer Foundation is embracing electronic transactions, and will have portable eftpos machines at some key collection points for its Pink Ribbon appeal in October.
Foundation spokeswoman Adele Gautier said collectors were increasingly hearing the excuse: "Sorry, I don't have any cash on me."
"Now we'll be able to say 'hey, no problem'," she said.
The foundation was also looking at introducing a "wave and go" system, where people could donate $2 in an instant.
Auckland Council for Civil Liberties president Barry Wilson said an entirely electronic marketplace would be open to exploitation and manipulation by governments and marketing companies.
"If you were to buy something from, say, a gay bookstore or a pregnancy clinic, they could get access to that information being held on centralised databases. There's enormous potential for violations," he said.
Supermarket chain Countdown has seen a huge increase in the number of people opting to buy their groceries online, rather than browsing the aisles.
Spokeswoman Kate Porter said it had delivered 2.6 million orders since launching its online shopping service in 1996 and the service had had double-digit growth in the last five years.
- APNZ