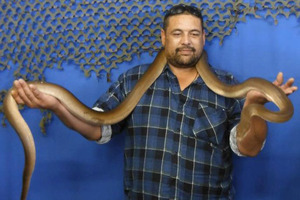 A Wanganui man has died on his birthday in unusual circumstances in Australia.
Douglas Hemi Whale - described as "a gentle giant" and "a great man" - had just celebrated his 44th birthday when he was found dead at his home in Clermont, Queensland, on Wednesday.
Initial reports said Mr Whale had died after sleeping on the patio of his home in temperatures as low as 1C.
Some reports suggested he had suffered a heart attack but the cause of death has not yet been confirmed.
A spokesman for Queensland police said Mr Whale's death was not being treated as suspicious and the matter had been referred to the coroner.
The father-of-five worked as a digger driver for Bennett Contracting & Plant Hire, an excavation and earthmoving contractor in Clermont.
Mr Whale has family in Wanganui and Taihape, and it was unclear when his tangi will be held as the matter is still before the coroner.
A member of the family said Mr Whale was a real character who would be much missed.
"He was a true gentle giant. Everybody loved him and he will be truly missed by everybody."
Mr Whale's wife is due to fly to Australia today to claim his body.
A spokesman for Bennett Contracting & Plant Hire described Mr Whale as "a great man" and said people there were feeling very emotional.
For more articles from this region, go to Wanganui Chronicle