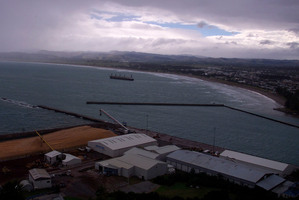 The fate of the arrested log carrier New Giant remains uncertain as the ship heads into another week at anchor in Poverty Bay outside Eastland Port.
The company contracted to look after the ship on behalf of the High Court of New Zealand has heard no word on any progress in talks between the ship's owners and their creditors.
All parties are awaiting a decision from the South Korean receivers of STX Pan Ocean.
New Giant and another log ship Fengli 12 sheltered at anchor in the lee of Young Nicks Head over the weekend as swells up to 6.8 metres high associated with the southerly weather system were recorded in Poverty Bay.
The crew on the two log boats reported no issues with the heavy swell.
"They were as good as gold out there," port marine manager Charlie Jamieson said.
The New Giant is set to remain at anchor in the bay for some time yet.
The port should be back to normal tomorrow.
"We hope to get the Fengli 12 back alongside the wharf in the morning to resume loading."
Fengli 12 is taking a full load of logs, about 30,000 tonnes, to China.
- Gisborne Herald