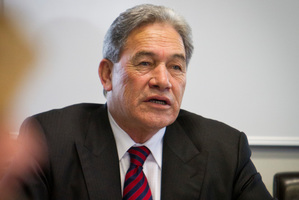 New Zealand First leader Winston Peters has shot back at Race Relations Commissioner Dame Susan Devoy after she said she would keep an eye on his criticisms of Chinese in New Zealand.
In a speech to Grey Power members this afternoon in Te Kuiti, Mr Peters reiterated his concerns about Chinese immigration and investment in New Zealand.
He also challenged Dame Susan and news media for their response to his previous "Supercity of Sin?" speech in Auckland, which claimed that Chinese were responsible for gang-related crime and prostitution in Auckland.
Dame Susan told TVNZ she would keep a close watch on Mr Peters, and that people were "sick and tired" of his tirades.
Mr Peters said this afternoon: "When [Dame Susan] became Race Relations Commissioner others criticised the appointment. New Zealand First did not. We felt she should be given a chance.
"We still believe that, but we would ask her to read our speeches and ignore the professionally outraged white liberals and cultural fellow travellers who pollute the landscape and demand the rest of the country pay for their civic amenities.
"This sort of insidious censorship under the guise of the race relations industry has to be stopped in its tracks," he added.
The New Zealand First leader claimed there were parallels between stifling of free speech in New Zealand and George Orwell's novel 1984.
"Being told the facts even though the facts hurt is a part of life, and in recent years there has been a shift from telling people the truth.
"George Orwell would have had a field day in New Zealand circa 2013."
Mr Peters compared Dame Susan, media and others to Orwell's Ministry of Truth because he felt the impact of immigration was being covered up.
He stressed that he was not against all trade with China nor was he against allowing skilled Chinese to enter New Zealand.
But he was critical of New Zealand's fair trade deal because he felt it favoured China too heavily, and he was also concerned about Chinese investment in forests, farms and factories, fast-tracked visas for tourists and students, and property speculation in Auckland.
Mr Peters was especially opposed to what he felt were lenient immigration policies which allowed New Zealand to become a "rest home" for elderly Chinese.
New Zealand First would change superannuation rules so migrants would be paid out according to how much time they had spent in New Zealand, he said.
"A person of 10 years residence ... will be entitled to roughly a quarter of New Zealand Superannuation," Mr Peter said.