Conservation scientists are hopeful a rediscovered seabird, the New Zealand storm petrel, can be nurtured on Little Barrier Island, to a point where it stands a chance of survival. Andrew Stone reports on their efforts to raise the profile of New Zealand's seabirds.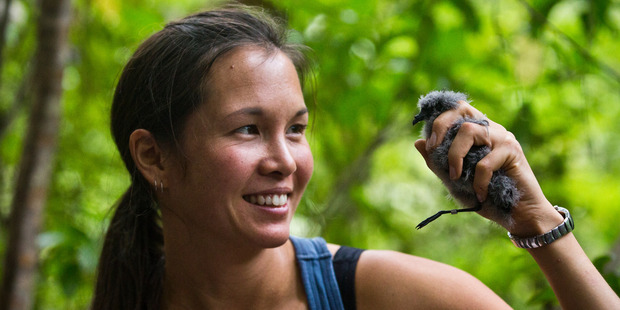 Megan Young reaches into a cool, damp hole under a clump of tangled native grass in a steep-sided valley on Little Barrier Island.
She is crouched on a bank, trying keep her footing on the greasy slope and ignoring the excited chatter of scientists a few metres away. Cameras are firing, primed to capture a sight which, until this moment, just a handful of determined researchers have ever seen.
"It's here," calls Young, as she carefully extracts a ball of grey fluff from the moist burrow. In her palms she cradles a New Zealand storm petrel chick, one of the rarest seabirds in the world, which, for more than a century, was believed to be extinct.
The little bird is perhaps two months old. It twitters faintly at all the attention as Young drops it into a muslin bag and passes it to Department of Conservation scientist Graeme Taylor, a seabird expert who despite years in the field has never had a storm petrel in his hand.
Sitting on a moist ledge just a few metres from the concealed nest, Taylor casts an experienced eye over the chick. He is elated but cautious. From its development, he wonders why the chick is not further along, why more adult feathers are not visible, why it still has a lot of down. The other scientists appear to share his concerns whether the bird is going to make it.
For now, its fate is for the experts to ponder. Under the canopy of kauri and beech trees there remains work to do.
Researcher Megan Young gets the task of weighing, measuring, banding and taking a couple of feathers from the guest of honour for its DNA. It is a moment of scientific history. No New Zealand storm petrel chick has been studied so intensely or had its details recorded for posterity. Even its tweets are caught on smartphones.
So little is known about the species that the chick is gold for the scientists. Its DNA will create a genetic profile, and guide efforts to nurse the fragile species towards a point where it stands a chance of survival.
No reliable estimate of storm petrel numbers exists. Until February this year, despite exhaustive efforts, scientists had been unable to locate a place where adult birds nest. The breakthrough came when searchers tracked the elusive birds from signals sent by tiny radio transmitters glued to the tail feathers of adults captured at sea. The signals indicated the noctural petrels came ashore on Little Barrier at night, flitting over razorback ridges and moving unerringly in the dark though great forest curtains before vanishing into camouflaged burrows where they could rear chicks in safety.
The tell-tale blip was tracked to the narrow valley where Young and the other scientists were up close to the famous little chick.
The astonishing discovery of two breeding sites on Little Barrier Island - the one where the scientists gathered last week, and another further up the same narrow valley - raises hopes that the species has a future, though its critical status means it has a long way to go.
So why the fuss? Why have these seabird experts endured a queasy 80-minute launch ride across the Hauraki Gulf to Little Barrier, a nervous landing by boat on angled tracks that slope into the sea, a muddy stomp through native forest and a tricky descent with ropes to reach the chick?
Because, explains ecologist Chris Gaskin, seabirds are a "canary in the cage" for the state of their marine environment. They occupy the top of the marine food chain. If their neighbourhood changes - from attacks by rats or cats on nests, from longlines set by fishing boats or from subtle changes in ocean temperatures - bird numbers can collapse. Gaskin helped organise the Little Barrier trip so he and the other scientists could draw up a battle plan for the storm petrel. But he also wants to raise the profile of New Zealand's seabirds, which are found in such diversity in the gulf that it has the status of a global seabird hotspot.
With University of Auckland biologist Matt Rayner, Gaskin has completed a study of seabirds in the gulf. Published by the Hauraki Gulf Forum, the agency with the task of protecting and enhancing the gulf environment, the report is essentially a distress flare for the birds.
Twenty-seven seabird species breed around gulf waters. Fifteen breed only in New Zealand and four species are endemic to the gulf - that is, they nest and raise chicks nowhere else in the world.
Gaskin and Rayner's research reveals concerns for the safety of several species and identifies potential conflicts with recreational and commercial fishing practices.
The picture is complex. The storm petrel is a rare example of a bird whose numbers appear to be recovering after seemingly dying out. Its salvation is tied to the eradication of cats and rats from Little Barrier, though Rayner cautions the species is by no means out of the woods.
" It may be that Little Barrier represents the only breeding site in the world [for storm petrels], " says Rayner. " If this is the case at some stage we may want to establish a second backup population of this species, an insurance policy."
This could be done by shifting selected chicks to a safe, new home, a technique called translocation. Scientists first need to know more about the biology and genetic state of the existing birds. Rayner says they need to find more nests, probably using a labrador called Maddi who found the chicks' burrows, and watch visits by adults with a CCTV-style set-up. They have to tread lightly as all the work means "getting in the birds' faces" and breeding birds could abandon chicks if harassed.
The outlook for two other birds, black petrels and the Buller's shearwaters, is less promising. Taylor, who has studied Buller's shearwaters for 30 years, senses the bird is being affected by dwindling fish resources in its feeding grounds.
He says information from electronic devices, called geolocators, attached to adult birds hint at the problems they face at their sole breeding grounds on the Poor Knights Islands.
Fewer "boil-ups" in the gulf - where large fish drive smaller creatures to the surface and directly to waiting birds - means breeding adults have been forced further afield to find food. This, in turn, has left chicks waiting for longer periods between meals - what are known as incubation shifts - resulting in smaller birds with poorer survival prospects.
"The anecdotal evidence is the big schools of kahawai are not in the abundance they once were," says Taylor. "The number of fish out there is down."
Problems for the birds were compounded by the last La Nina climate pattern, which meant less nutrient-rich waters to provide food. He says a population census is urgently needed to check on the birds.
Black petrel numbers have been hammered by their liking for bait on lines dropped from on-shore and deepwater fishing boats.
The birds may dive up to 20m after bait and can drown when lines are recovered. They are most at risk when their foraging patterns coincide with the presence of inshore longliners.
Just 5000 of the birds, which only breed on Great Barrier and Little Barrier Islands, are thought to remain. The Department of Conservation puts the bird in the "vulnerable" category. Surveys of breeding sites suggest their numbers are falling by 1.4 per cent a year, which means they could be wiped out in 30 years. Rayner says: "We are fishing black petrel towards extinction."
It is notoriously hard to get an accurate count of seabird deaths from fishing. Few observers are on board commercial boats to provide independent counts, with less that 0.5 per cent of vessels in the high-risk areas working with fisheries officers.
One survey estimated 11,500 birds were caught each year by recreational fishers in the northern region, which includes the gulf. Crews interviewed at boat ramps reported that 77 per cent of birds were unharmed, though researchers noted that the fate of birds hooked or tangled was unclear.
Figures published by the Ministry for Primary Industries tell a different story. Its most recent report mentions just two birds caught in trawls between 2002-03 and 2009-10. On snapper longlines, the estimated capture was 400 to 600 birds a year between 2003-04 and 2006-07. In terms of observed captures, the ministry says 85 birds were caught between 2002-03 and 2011-12. The ministry qualified its report saying the numbers were a "general guide" because " the observer coverage is low, is not uniform across the area and may not be representative".
The ministry says it preparing a plan to lessen the impact of fishing on black petrels, trying to get more observers on vessels and testing the use of video cameras on on-shore boats. It says it takes the issue seriously, but accepts more needs to be done.
All sides accept that some species of seabirds are dying, though the scale of destruction is unclear. Even more alarming, however, are the findings of a study by Te Papa terrestrial vertebrate curator, Alan Tennyson.
Tennyson, a member of the museum's seabird research team - and part of the Little Barrier group designing a survival plan for the storm petrel - reported that a "significant" number of dead shearwaters recovered after the Rena disaster had fatal "fisheries-related" injuries, rather than succumbing to oil seeping from the shipwreck.
The birds had crushed skulls, stab wounds and broken wings. They had, it appears, been bashed to death, possibly because they were competing with fish for bait. Most casualties of the Rena grounding were local Bay of Plenty breeding birds. But among those affected were Buller's shearwaters from the Poor Knights Islands.
Gaskin says fishers can learn how to catch fish without catching birds; simple measures such as covering bait and using weights to ensure set lines sink quickly.
Rayner advises: " Buy a bird book, even if you've got to hide it from your mates. If you catch a bird on a hook, handle it gently and if the hook can be removed, do so and release it."
Sheryl Hart, vice-president of the NZ Recreational Fishing Council, says as long as people fish, "there will be interaction with birds". She believes most fishers who hook a bird will release it, and says in her experience most birds fly away after being freed.
Hart says the casualty figures seem high and she is stunned by the suggestion of Rena seabirds being deliberately bashed. But she considers a code of practice could be useful in reminding the thousands of New Zealanders who fish the best and most humane way to handle hooked birds.
Gaskin, who has spent countless hours at sea in the pursuit of the storm petrel, wants to remind the thousands who use the gulf of something else. The discovery the bird is breeding on Little Barrier was a huge relief to the team who freely gave their time to confirm the species had somehow survived in the face of everything nature and human settlement had thrown at it.
Gulf users, Gaskin says, should take the time to find out more about the seabirds that inhabit it. "We need to learn how to share it with them. Understanding brings respect. They are remarkable creatures."