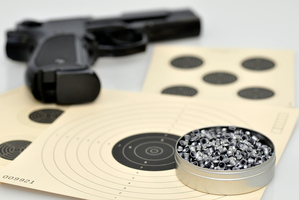 Teenagers as young as 14 are arming themselves with air pistols to rob dairies and service stations around Christchurch.
On Sunday, a 14- and 17-year-old were arrested after allegedly trying to hold up a dairy in Christchurch.
A 14-year-old was also arrested on Monday night and charged with the aggravated robbery of the Caltex Hornby service station, where he allegedly pointed a gas pistol at the shop attendant and demanded cigarettes and money on June 9.
There have been 21 aggravated robberies of businesses in Christchurch from January to May this year.
Of those, 18 were at dairies, service stations and superettes.
Detective Senior Sergeant Darryl Sweeney said teenagers were robbing diaries and service stations for money and cigarettes.
"Most of them are in their late teens to early 20s. They aren't getting a lot from these robberies but it's very disturbing for people that are involved," he said.
Criminologist Professor Greg Newbold said the trend was worrying.
"Kids are so crazy. There is nothing worse than a kid armed with a firearm," he said.
"If they are mad enough to rob a store then they are the ones you need to worry about. They don't know what they are doing and they can do anything without thinking about it. It shows they are dangerous and unstable. They are high risk and dangerous," he said.