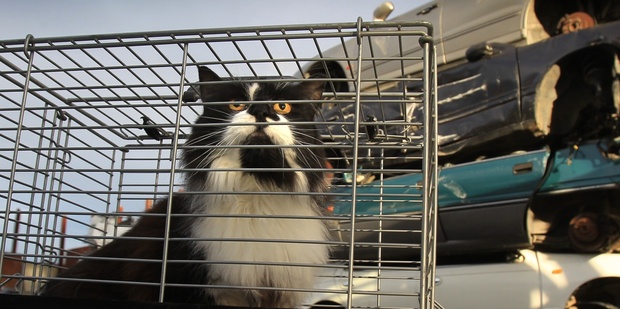 Libby, the cat left for dead in a car destined to be crushed at a wrecker's yard, has been adopted by an Auckland couple.
The moggy was left tied in a sack in the boot of a car abandoned at Pick-a-Part wreckers in Greerton before being rescued by a woman living at the site. Libby spent six weeks at the Tauranga SPCA, unwanted.
Her plight was revealed in the Bay of Plenty Times on Friday but the next day she was adopted by Christine Holland and Brent Topine.
Ms Holland said she read of Libby's plight when the New Zealand Herald ran the Bay of Plenty Times story on Saturday morning.
The couple rang the Tauranga SPCA to find out if the cat was still there, then "we hit the road". She and her partner worked, so an older cat such as Libby was more suited to them than a kitten, being more independent. Libby was hiding a little but getting used to her new environment.
"She's made her home in our bedroom at the moment, either under or on top of the bed."
Tauranga SPCA's Jason Blair said that with the number of calls they had received, they could have adopted the cat out 70 times.
For more articles from this region, go to Bay of Plenty Times