Scientific tests at centre of bid to have murder convictions quashed by Privy Council.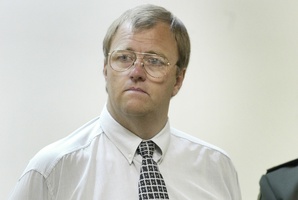 A challenge to the science used to identify DNA matter on a shirt as brain tissue is a core part Mark Lundy's appeal to the Privy Council in London, which begins tonight.
A team of lawyers for Lundy will appear before the court's judges to argue that a miscarriage of justice occurred in the trial where he was found guilty of murdering his wife, Christine, and daughter, Amber.
He is serving at least 20 years in prison after being convicted of the axe attack in their Palmerston North home in August, 2000.
The non-parole period was lifted from 17 years by the Court of Appeal after his appeal failed.
But believers in Lundy's innocence, led by Auckland man Geoff Levick, were able to organise a legal bid to convince the Privy Council in London to hear a final appeal to quash his convictions.
The crown case at Lundy's trial was that Lundy, then 41, went to Wellington on August 29, 2000, on a fortnightly trip sales trip to visit kitchen suppliers.
He checked into a Petone motel at 5pm, and 30 minutes later received a phone call from his wife telling him that Amber's Girl Guides meeting was cancelled and they were having McDonald's for dinner.
The Crown said Lundy convinced Christine to get Amber into bed by 7pm so they could have a romantic evening together.
He then drove 150km back to Palmerston North at high speed, parked 500m from his home, then ran inside around 7pm and attacked his wife with a tomahawk.
When Amber got up to see what was happening, he killed her too.
Lundy then sped back to Wellington, arriving just before 8.30pm when he spoke to a friend on his cellphone.
Lundy's defence was that he stayed in Petone, read a book on the foreshore, drank alcohol and paid a prostitute to visit him at 11.30pm.
The bodies were found by Christine's brother around 9 o'clock next morning.
Lundy was arrested six months later and was found guilty after a six-week trial in 2002.
The Crown suggested his motive for the murders was to claim a life insurance payment so he could pay a debt.
The case was circumstantial and focused on a three-hour time frame and whether Lundy could have done what he was accused of doing and been back in Petone to call a friend at 8.30pm.
Critics have also questioned the pathology report which used stomach contents to determine the time of death, a process challenged by some experts.
There were also questions over the timing of how the family computer was shut down at 11pm - police said Lundy tampered with it - and the credibility of the sole eye witness who claimed the obese Lundy ran past her dressed in a long blonde wig.
But the key witness for the police was Texas pathologist Dr Rodney Miller, who gave damning evidence about two specks of tissue found on one of Lundy's polo shirts.
It is this evidence which forms the core of the Privy Council appeal.
The samples were sent for DNA testing and showed high probability of Christine's DNA which could have got there as she gave him a hug or put away his shirt. Some doctors suggested the material might contain cells only found in brain or spinal cord tissue.
But as the sample was nearly two months old before it was discovered by ESR and therefore "suboptimally preserved", it could not definitely be identified as brain tissue.
The appeal to the Privy Council led by Dave Hislop, QC, a New Zealand lawyer living and working in London, will challenge the credibility of the science used in the testing as "fundamentally flawed".
Several experts in the testing method and in forensic pathology from New Zealand and England will be called to challenge the evidence of Dr Miller.
The hearing is set down for three days, but the Law Lords' decision on Lundy's convictions will take weeks, possibly months.
The Lundy appeal is likely to be one of the last New Zealand cases heard at the Privy Council.
The Supreme Court replaced the Privy Council as New Zealand's highest court in 2004.
The Privy Council can still determine appeals in certain existing proceedings, including appeals against Court of Appeal judgments given before January 1, 2004.
Mark Lundy
* Convicted of murdering his wife, Christine, and daughter, Amber, 7, in August 2000.
* Serving a life sentence, not eligible for parole until 2022.
* A three-day hearing at the Privy Council in London starting tonight will determine whether his convictions are quashed.
* The appeal centres on questioning the science used to identify tissue found on Lundy's shirt as from the brain or spinal cord.
The Kiwi Connection
* Geoff Levick, an Auckland man who has organised the Privy Council bid after being convinced Lundy could not have driven the 150km between Petone and Palmerston in the time police claim he did to commit the murders.
* Dave Hislop QC, a New Zealand barrister who lives in London leading the Privy Council appeal with fellow expat lawyers Malcolm Birdling and Alan Taylor.
* Cameron Mander, New Zealand's deputy Solictor-General, representing the Crown at the appeal.
* Dame Sian Elias, the Chief Justice of New Zealand who has been invited as one of the five Law Lords to hear the appeal at the Privy Council.