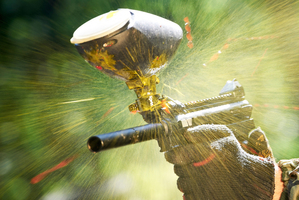 Two men have been charged over a paintball gun shooting spree in Christchurch at the weekend.
Police allege Jamie Jacob Parker, a 23-year-old engineer, and Cory James Shelton, 22, were behind the attacks on a cyclist, pedestrians, and bus shelters.
Several people have come forward to say they were hit by paintball pellets fired from a car in Riccarton on Friday night and early Saturday morning.
Parker and Shelton are charged with intentionally damaging the windows of a furniture store, presenting an airgun, namely a paintball gun, at a woman, intentionally damaging two cars, and seven bus shelters.
They've been charged under the Arms Act 1983.
Both men, of Christchurch, were granted registrar's remands at Christchurch District Court today and remanded on bail to appear in court on July 4.
- APNZ