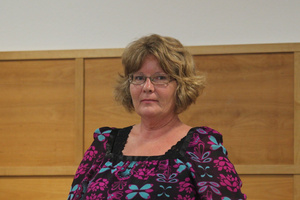 A woman sentenced to seven years' imprisonment for savagely beating her sister, who was also mauled by her pitbull, is trying to get her sentence reduced because she claims she didn't make the dog attack.
Phillipa Bayley was last year found guilty of wounding with intent to cause grievous bodily harm to Liz Smith, who underwent surgery after suffering multiple tears to her scalp, ears, nose and lips. Bayley admitted some of the injuries were inflicted by her with a stone chess piece.
After the jury handed down its verdict, the foreman told Judge Robert Wolff that all 12 members were unanimous in their view that Bayley's pitbull dog was involved in the attack but could not agree on whether the dog was deliberately set on Ms Smith.
Judge Wolff told Bayley he took this into consideration in his sentencing but he was certain she set her dog upon her sister.
"I'm satisfied the complainant did not start any incident with you other than a verbal discussion with you, that you pushed her first and then that grew into an incident where you attacked her with a chess piece and, by my view, setting the dog upon her.
"The jury plainly did not unanimously share my view about the attack by the dog. Either way, the extent and number of injuries to the complainant show the dog took part for a considerable amount of time.''
That is the basis of Bayley's appeal to the Court of Appeal in Auckland, and she seeks to have her sentence reduced by about a year.
Her lawyer, Bill Nabney, said outside court today that if Bayley did not deliberately get the dog to attack then it could not be said to have been used as a weapon.
Therefore it should not be seen as an aggravating factor, he said.
Bayley still maintained that the dog did not inflict any of the injuries.
Referring to evidence from the trial, Crown lawyer Brett Tantrum told the court that Bayley had held Ms Smith down while the dog attacked her.
Bayley was capable of stopping the dog attack but she did not, he said.
Justices Robert Dobson, Patricia Courtney and Anthony Randerson reserved their decision.
- APNZ