Paraglider 'very lucky fellow' after fall on to rocks near Muriwai with semi-inflated chute.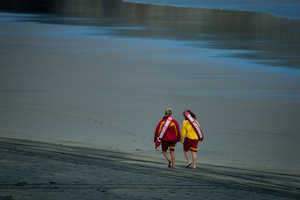 A man watched his brother plunge 50m on to rocks in a paragliding accident at a west Auckland beach yesterday.
The 25-year-old paraglider was jumping from cliffs above Maori Bay, Muriwai about 4.45pm when he fell on to rocks.
His brother saw the accident happen - at the northern end of the remote beach, near the gannet colony - and stayed with him until emergency services made the 40km trip from Auckland.
He had pelvis and lower back injuries and was airlifted to Auckland City Hospital in a serious condition about 6pm, said a Westpac Rescue Helicopter spokesman. "He's a very lucky fellow."
It was nearly dark when the helicopter landed on the beach, and a group of about 10 bystanders helped emergency services, he said.
The victim's brother travelled in the helicopter and told crew how his brother fell.
"He's probably fallen 150ft. His chute has semi-inflated just before he hit the rocks, so luckily he wasn't descending at 100 miles an hour," the spokesman said.
The victim was fully conscious and communicating with crew during the flight.
Auckland Hang Gliding and Paragliding Club president Graham Surrey described Maori Bay as a popular spot for gliding. "It's a site that's not particularly tricky in the right conditions, but I am not sure what's caused this particular incident."
He said the accident was worrying and would be followed up by the club's safety officer and reported to the New Zealand Hang Gliding and Paragliding Association.
"It's not a very good situation, but that will be followed up with an accident report through the national organisation once the pilot is able to substantiate what has happened."
He said despite the high-risk nature of the extreme sport, it was highly regulated and there were few accidents.
"There's a certain level of risk we have to acknowledge when undertaking it but all of the pilots out flying have to go through proper training and [must] be licensed to fly."
Pilots were required to obtain a PG-2 licence from a certified training school, and undergo at least 40 hours of flights from different sites, he said.
The pilot was in a stable condition in hospital last night.