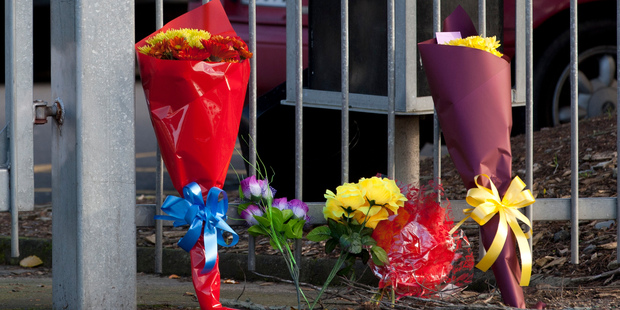 Mourning students and members of the community wept and placed flowers at the gate of a West Auckland school this morning following the death of a teenager after a violent incident at a school rugby training session yesterday.
Students and adults have told of their "complete shock" at the death of Kelston Boy's High School pupil Stephen Dudley, 15.
The school this morning held an assembly to brief its students and teachers about what had happened to the teenager.
Pupils from Kelston Girls' College had also come to pay their respects, however they were turned away from the private assembly.
Some could be seen wiping tears from their face, shocked at the death of a boy so young.
Bouquets of flowers were placed outside the school's gates, some with hand written notes paying respect to the student.
Jenn Brunt said she had dropped her brother off to attend the assembly as he now went to another school.
She said her brother was with Stephen the night before he died, playing basketball with him.
"We were all pretty shocked."
Kelston Boy's didn't have a violent reputation, Ms Brunt said.
The father of a student at the school, Paul Grinham, said his family had found out about Stephen's death through Facebook.
He said it had been a "complete shock".
Ricky Tuua, who was considering sending his son to Kelston Boy's next year, said it was a sad day.
Before filing into the school hall, boys could be heard practicing a haka.
- APNZ