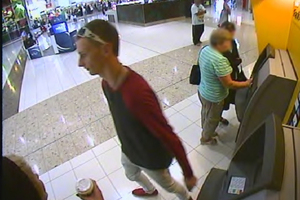 A 90-year-old woman had more than $27,000 stolen from her bank accounts by a man who tricked his way into her home posing as a Telecom maintenance worker.
The woman was at home in Milford on Auckland's North Shore when the man arrived, claiming he was there to repair a faulty phone line.
The pensioner believed him and let him into the house. While inside, he took her eftpos and credit cards.
After he left, he called the woman from a pay phone and managed to obtain the pin numbers to her cards, Constable Erik Bakker said.
Between April 8 and May 9, he withdrew $27,500 from her accounts from cash machines around the Auckland area.
At 11.34am on April 11, he was caught on camera using a card at an ASB Bank cash machine in Albany's Westfield shopping centre.
The woman was unaware the money was being siphoned from her account until she was contacted by her bank.
"I am obviously keen to speak to the person in the footage," said Mr Bakker.
The 90-year-old victim was upset about the loss. It was not clear whether her bank would cover it as she had given her pin number to the man.
Age Concern elder abuse and neglect prevention manager Louise Collins said the theft was "absolutely appalling".
"Often older people are more trusting and these people target them because of that," she said. "The tragedy of it is when this happens, the money is not often recovered."
Ms Collins said the effect of a crime like that against an elderly person was "destructive".
"It's horrible. They lose their confidence and often they lose the ability to live alone or independently and they end up in residential care because they've had the stuffing knocked out of them."
Banking Ombudsman Deborah Battell recently explained where banks stood in cases where people were ripped off after giving out their pin number.
"If you have a credit or debit card, you sign up to terms and conditions for their use and the rule for all is not to divulge pin information.
"If you do and payments you don't authorise are made to your card, you won't have a leg to stand on," she said.
"We have great sympathy for people caught out but ultimately, terms and conditions around pins exist to protect the banking public from these exact situations."
Ms Collins said the elderly could protect themselves by safeguarding their banking information.
"Our message is always, don't ever give your pin number out to anyone. And have the confidence to say no."
She said if anyone came knocking claiming to be sent by a company, elderly people should always ask for ID and, if in doubt, ring the company to confirm the person was legitimate.
Mr Bakker said people should also call the police if someone dodgy came to their door without an appointment.
Can you help?
If you recognise the man in this security footage, or have been targeted by someone similar claiming they are working for Telecom or another company, please contact Constable Erik Bakker at the Takapuna police station on (09) 353-0584 or email MBI881@police.govt.nz. Alternatively, contact Crimestoppers anonymously on 0800-555-111.