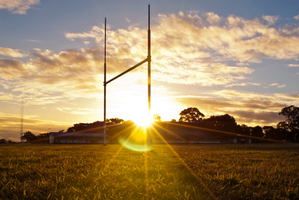 * Do you know more? Contact the Herald here.
A 15-year-old boy died after being allegedly assaulted at a school rugby training session in West Auckland this evening.
Stephen Dudley was taking part in a training session with a Kelston Boys' High School rugby team when he was fatally injured.
Police have started a homicide investigation, but said it was too early to comment on the specifics of his death.
It is understood officers were investigating whether Stephen was assaulted by one or more other teenagers.
Emergency services were called to the Kelston Deaf Education Centre on Archibald Rd in Kelston, where the Kelston 2C team were training, at about 5pm.
Stephen was taken to Auckland City Hospital, but died as a result of his injuries.
Detective Inspector Bruce Scott was at the scene of the incident this evening and at least 15 other teenagers were being interviewed.
It was hoped Stephen's teammates would be able to tell police what happened.
Stephen's family had been told of his death and were distraught, Mr Scott said.
Friends of Stephen are paying tribute to him on Facebook.
Samson Suitupu wrote "Brother rest easy. Gonna miss the times we played shadow boxing in engineering. Gonna miss asking you for help. RIP Stephen Dudley, God bless."
Tamara-Rose Shaw wrote: "Rest easy Stephen Dudley... You'll truly be missed by everyone, such a great guy and so un-expected."
Kelston Boys High School board of trustees chairman Jonothan Tommy said he did not have the details of the incident and was waiting for an update from principal Brian Evans.
He said the incident was hugely distresing for the Kelston community "It is a terrible thing to happen. A terrible thing.''
Whau local board chairman Derek Battersby said the news was "hard to comprehend''.
"The community that goes out and enjoy outdoor sport has to front up to a situation where somebody is killed. It's unbelievable. I don't understand it,'' he said.
Several police cars were seen travelling away from the scene down Great North Rd about 7.30pm.
One Archibald Rd resident, who lives across the road from the field, said he heard a loud yell about 5pm.
"It was just a yell, just a loud yell,'' he said.
Shortly afterwards, police swarmed on to the scene.
"I thought that's a lot of police going up and down here' and then I noticed torches on their heads. They were looking up and down the field.''
The man said rugby teams often trained on the field and about 15 boys were on the field.
Additional reporting: Nicholas Jones, APNZ