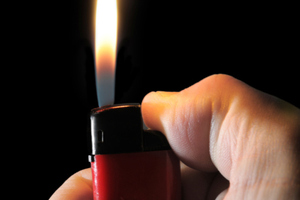 A man who allegedly soaked himself in petrol and threatened to kill everyone in a house with the flick of a lighter before he was tackled by police officers could have psychological issues, a court heard today.
Police say they were called to a Christchurch house about 8.20pm on Sunday with reports of a man allegedly threatening to set himself and the property on fire.
The 23-year-old man's mother and flatmate barricaded themselves in a garage until the two officers entered the house and allegedly wrestled a lighter from him and arrested him.
Constable Gary Prescott, whose bravery has already been commended after he saved an elderly woman from drowning while off duty, and patrol partner Constable Rick Groen were praised by top brass for their brave and quick-thinking actions.
The 23-year-old man was charged with attempted arson, burglary, threatening to kill and wilful damage.
Today, he appeared from custody at Christchurch District Court where his defence counsel asked Judge David Holderness to order a psychiatric report under the Criminal Procedures (Mentally Impaired Persons) Act.
Before that can happen, the man must undergo a screening interview by a forensic psychiatric nurse, who would then decide whether a report is needed.
He was remanded in custody until June 7 for that to happen, and Judge Holderness granted him interim name suppression.
- APNZ