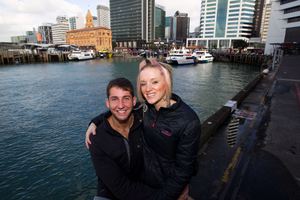 A couple have won airfares worth $3000 after calling a company on its lowest-price guarantee.
Joseph Pizzoferrato, 24, and his girlfriend Lindsay Gold, 21, will fly home to New York free in July after Flight Centre agreed to pick up the tab.
Mr Pizzoferrato, who has been on a one-year working holiday in New Zealand, said they were close to booking on BYOJet.co.nz, until Ms Gold remembered Flight Centre's promise.
It states the company will beat available quotes for flights departing New Zealand, or "you fly free".
Last Thursday an agent at the company's downtown Auckland branch offered the pair the same price.
They rang and left a message for the general manager pointing out the airfare had not been beaten. Half an hour later Flight Centre called back to confirm it would pay for the flights.
Consumer NZ chief executive Sue Chetwin said such low-price promises were common, and had to be kept.
"If they make these guarantees, and they aren't really allowed to surround them in fine print, then they do have to honour them."
Flight Centre executive general manager Mike Friend said the company's policy was to beat a lower price by $1 and include a $20 voucher. It paid out about once a month, he said.