Discovery of concealed cellphone sparks call for scanning seats in all NZ prisons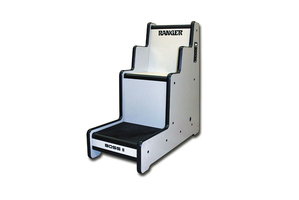 Corrections staff are calling for special scanning chairs in all prisons after doctors found a cellphone hidden in the rectum of an injured Paremoremo prisoner.
Boss (body orifice scanner) chairs are metal-detecting seats that locate objects hidden in cavities. A Boss could detect cellphones and metal weapons. The prisoner injured in a stabbing at Auckland's Paremoremo Prison last Tuesday has returned to prison after being treated in Auckland City Hospital.
The Herald on Sunday last week reported Tangi Nikoia, a convicted rapist serving a 16-year sentence with a nine-year non-parole period, was taken to the hospital after he was stabbed up to 28 times.
Doctors found a cellphone hidden internally.
A prison source said the shank used to stab Nikoia was made from the metal part of a mop wringer. The source said warders reacted quickly but inmates had jammed door mechanisms with phone cards.
"The guards didn't get to Nikoia for about 15 minutes," the source said. "It is ridiculous that prisoners could so easily seal an area off."
Corrections Association spokesman Bevan Hanlon said he knew of only one Boss in New Zealand, at Paremoremo. "There should be one at every prison." he said.
The chairs meant strip searches didn't have to be so intrusive. "We get a lot of people assaulted while strip searching prisoners." Corrections technology general manager Jeremy Lightfoot said the department owned one Boss chair and private prison operator Serco owned another at Mt Eden.
"Being a seat, the prisoner is in very close proximity to the detection device, making the Boss chair suitable for detecting metal hidden within body cavities. However, because it uses traditional metal-detection techniques, it is limited in what it can detect."
He said Corrections was evaluating several newer technologies to detect contraband hidden internally.