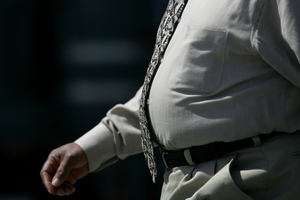 New Zealand adults are on average the second heaviest among 50 countries, a health list reveals - prompting warnings of a looming medical crisis for some Kiwis.
The average Kiwi was estimated to weigh 81.3kg last year, lighter only than the average American, who weighed 82.7kg.
The weight list was compiled by the Bloomberg news service using data from the World Health Organisation, the OECD and a survey funded by the US Agency for International Development.
It does not include any Pacific countries, where rates of obesity are up to more than twice those of many Western nations.
In separate statistics, Bloomberg recorded New Zealand women as the sixth heaviest in the world at an average 74.6kg, and Kiwi men as 8th heaviest at 88.54kg.
Despite its Pacific gap, the list has reinforced alarm among some public health experts about New Zealand's increasing rate of obesity. It has also surprised Maori Party co-leader Tariana Turia, who has had a struggle with her weight.
"I have travelled and seen obesity worldwide ... I wouldn't have thought [New Zealand] would be second in the world," said Mrs Turia, who lost 35kg after she paid to have obesity surgery in 2009.
Obesity increases a person's risk of developing type 2 diabetes, high blood pressure and heart disease.
Professor Don Matheson, of the Centre for Public Health Research at Massey University and a former Ministry of Health deputy director-general, said Pacific Island health systems were becoming overwhelmed by type 2 diabetes and its complications, such as kidney failure.
New Zealand was heading for the same sort of crisis "for some populations", he said.
Ethnic groups in New Zealand have widely differing rates of obesity. The Pacific group has the highest rate, at 62 per cent of adults, Maori are at 44 per cent, European and "others" 26 per cent and Asian 16 per cent.
The obesity rate is also much higher (40 per cent) among people living in the most deprived areas than among people in the least deprived localities (23 per cent).
Otago University senior research fellow Dr Rachael McLean said having to deal with the complications of type 2 diabetes, such as limb amputations, blindness and renal dialysis, had "huge consequences" for the health system.
She urged the Government to adopt community and school-based activity and nutrition schemes.
The Government focus for new nutrition programmes is on mothers and babies.
It is also spending more than $10 million extra in the coming financial year on more screening for diabetes and cardiovascular disease, and on providing more "green prescriptions", in which GPs and nurses encourage patients to get more exercise and improve their diet.
Bloomberg rankings
The rankings are skewed by the absence of Pacific nations.
In Nauru, 79 per cent of adults are obese, says the World Health Organisation data. The adult obesity rate in Kiribati is 51 per cent, in French Polynesia, 41 per cent and in American Samoa, 75 per cent. The US rate, measured in 2006, was 34 per cent.
The latest New Zealand rate, in the 2011/12 health survey, was 28 per cent.