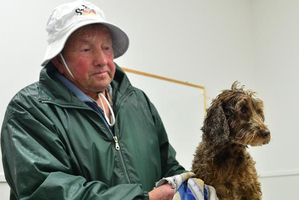 Snoopy is a survivor. The 4-year-old spaniel-cross spent six hours stranded on a Dunedin cliff ledge in the cold and rain yesterday.
Owner Derek Hovius walks Snoopy around the Chisholm Park golf course most mornings, but yesterday the dog disappeared about 10am.
It wasn't until 4pm that a very cold and wet Snoopy was back in Mr Hovius' arms, following a three-hour search and rescue operation by Dunedin Marine and LandSAR volunteers.
Snoopy had slipped off the cliff near the golf course.
Mr Hovius was unaware Snoopy had fallen and spent 90 minutes searching the golf course.
He bumped into two women who had heard a dog barking while walking along Tomahawk Beach.
They called the Otago SPCA and Land and Marine SAR, and volunteers arrived about 1pm.
Two men went over the cliff on ropes in an effort to see Snoopy, while others took to an inflatable life raft and scoured the base of the cliff from the ocean.
The dog was discovered about 12m below the cliff top, on a narrow ledge, and was difficult to reach.
Mr Hovius waited anxiously at the top and was overcome with relief when a shivering Snoopy was placed in his arms.
"He's a survivor," Mr Hovius said.
Mr Hovius had taken Snoopy's collar off because the dog was recovering from an abscess on its neck, so had not been on a leash.
Snoopy was examined by a veterinarian and given the all-clear before Mr Hovius took him home.