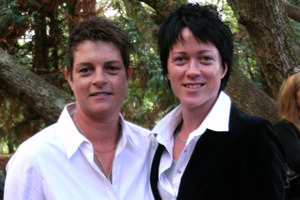 The owners of a Whangarei lodge say they have had death threats made against them since their decision not to allow a lesbian couple to share a bed at their establishment went public earlier this month.
Karen and Michael Ruskin, who own Pilgrim Planet Lodge have called in the police over what they say have been threats made against them and their business.
The couple came to prominence earlier this month when they refused to allow engaged Far North lesbian couple Jane Collison and Paula Knight to share a bed at the lodge.
Ms Knight and Ms Collison have complained to the Human Rights Commission over the snub, saying they were discriminated against because of their sexual orientation, which was a breach of the Human Rights Act.
But the Ruskins believed the lodge had an exemption under the Act as it was classed as shared accommodation and the couple's home.
Since the matter became public the Ruskins have been inundated with criticism, but have also received plenty of support for their stance.
They say the criticism has become far more sinister than people simply disagreeing with their morals.
Ms Ruskin said people could disagree with the couple's moral stance on the issue but issuing threats showed intolerance and bigotry.
Mrs Ruskin said the couple had yet to be contacted by the Human Rights Commission but she accepted that the couple faced a "fairly huge battle'' fighting the complaint.
For more articles from this region, go to Northern Advocate