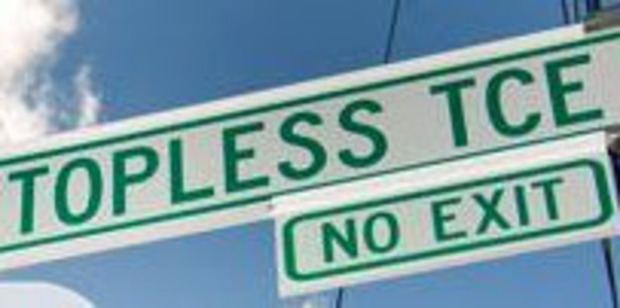 A boob made on a Wellington street sign is being put to good use.
The misspelled 'Topless Tce - No Exit' had heads turning on Torless Terrace when it was erected earlier this month.
Wellington City Council said it had been put up in the Thorndon street in a genuine mistake.
The Torless Terrace sign had been altered with pieces of tape or white paint over the years to titillate local humour.
Now, the council has donated the sign for auction, with proceeds going to the New Zealand Breast Cancer Foundation.
"Please help us support women living with breast cancer," the Trade Me posting says.
The auction, which closes tomorrow morning, has received more than 31,000 hits and 91 bids.
The top bid currently sits at $704.
"The level of bidding on the sign on Trade Me has exceeded our expectations - we're thrilled that a simple spelling mistake will earn us hundreds of dollars, and very grateful to Wellington City Council for thinking of us, and for making the mistake in the first place," said Breast Cancer Foundation chief executive Van Henderson.
- APNZ