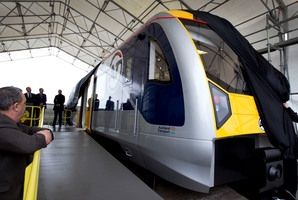 Auckland rail services face another extended summer shutdown because of a six-month delay to a major component of the region's $1.16 billion electrification project.
Government-owned KiwiRail has revealed that instead of all 85km of lines from Papakura and Swanson to Britomart being electrified as planned by August, its $500 million part in the project will not be finished until early next year.
That will mean having to close railway lines again for several weeks after Christmas. KiwiRail chief executive Jim Quinn blamed access difficulties for contractors to increasingly busy rail corridors for the delays in running overhead power wires to Britomart and elsewhere.
He insisted the tracks from Papakura to Britomart would be fully electrified by April, but said "testing and tuning" of the system would have to continue until 2015, as the process needed full-length trains running frequently beneath the wires.
"We expect to have traction infrastructure in place across the bulk of the network by Christmas, with the rest being completed over the summer block of line [rail network closure] in January.
Commuter and blogger Matt Lowrie, the main contributor to a Campaign for Better Transport website, said KiwiRail's sudden acknowledgement of the delay was disappointing after repeated assurances its part in the project was on track for completion in August - in good time for the new electric trains.
Auckland Transport spokesman Wally Thomas said the council body was continuing to work closely with KiwiRail "and the programme as far as we are concerned is on schedule".
Rail electrification
*85km of electrified lines from Papakura and Swanson to Britomart and 57 three-car electric trains.
*Cost: $1.164 billion
*Planned introduction: April 2014 to late-2015